Diversified Labeling Solutions-success built one job at a time
Posted: February 02, 2015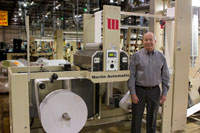 Bob Hakman, President, Diversified Labeling Solutions
Diversified Labeling Solutions, Inc. (DLS) is one of the largest independently owned label companies in North America. Headquartered in Itasca, Illinois, DLS also has production facilities in Georgia, Texas and Nevada for a total of over 240,000 square feet of production space. Our story begins in 1985 when founder, Bob Hakman, started a company focused on producing high quality custom-printed tape for the distributor market. Not long after the new company was operational, Bob identified a growing demand for barcode pressure sensitive products and Diversified Labeling Solutions was born.
Founder Bob Hakman tells his story, "I was working as an accountant for a label printer/converter when the printer began to fail because they lost a couple of large accounts. I had to consider what I was going to do as my next career.
Finally I decided that I could do something like this (be a printer). I taught myself how to run a flexo press and started my new business. I discovered that the flexo printing part was relatively simple but the management side of growing your own business was a constant struggle."
DLS sells 100% of their products through distributors and resellers-no direct sales. The company doesn't work with long-term sales contracts; instead, they earn their business purchase order to purchase order. This is not a forgiving business model and it requires maximum efficiency, top quality and outstanding customer service every day. Their next order depends upon how well they printed their last order.
The distributors cover a broad range from value-added resellers to print brokers who sell commercial print as well as labels. The customer may be one man working out of his basement up to multi-million dollar entities that outsource some of their production. To survive and prosper in this market you have to be really good and very affordable every time. You can't make mistakes and you must be sure that at the end of the day, those distributors have a good reason to come back to you for their next job.
Making a living from commodity products has become harder and harder. While these stock products remain important, DLS has also been expanding their custom labels over the past ten years and that business is growing annually.
Bob Hakman continued, "Basically the marketplace forces your hand. I started the business in the image marketplace which eventually became a commodity business. To stay competitive we had to go to wider and wider presses with automatic butt splicers and rewind turrets. That was part of our formula to becoming and remaining successful.
Several years ago I placed an order for a new Martin splicer and at that time normal delivery was in about four months. Unfortunately we had quoted a really big job using numbers based upon automated roll change and we won that order far sooner than expected. We needed that new Martin splicer immediately if not sooner! I contacted Martin and they went all out to help us. They changed around a number of scheduling dates to make the critical equipment delivery that we needed. Since that time, Martin Automatic has become an important component in our production strategy to the point that we now have a total of 20 Martin systems in our four production facilities.
You can't ignore the efficiency that automatic splicing adds to your press. We run the equipment non-stop for two 10-hour shifts every day. When we calculated the return on investment, we figured we were saving at least 1.5 hours per day per press on roll changes alone, not to mention the reduction in material waste and better quality tension. Ultimately, our presses just run better with Martin splicers on them."
Dan Petersen, DLS's General Manager, noted, "We have Martins on some 10" presses as well because it allows us to gang run certain orders more efficiently, but it's mostly predicated on our longer runs. Production wise we're happy, we get a lot more production because we're not down. To put a roll on the press, we can be down anywhere between 7 - 14 minutes, so we gain all that time per hour of production.
We have automation on the finishing end of the process as well so we don't have to shut down during a long run. Obviously, if you're not stopping and starting the equipment, you're reducing your waste while running. Having continuous operations allows us to remain consistent with print and die-cutting operations. Any time you stop and start the process there is an opportunity for errors. Continuous running certainly improves the overall print quality while increasing the through-put."
In the first quarter of 2013, DLS added digital printing to their capabilities. The company purchased a Colordyne 1600PC and an INX UV press, both with laser die cutters. Bob Hakman commented, "Digital equipment is a very expensive step for a converter or broker and we're working to make our digital products as affordable as possible. Our digital capability has opened a lot of new doors for us and we've seen phenomenal growth in this medium. We're running a lot of small boutique products that are pretty short runs. A typical company may have 30 product lines but they only need three to five thousand labels for each. Digital is perfect for that type of work."
Selling only through distributors and print brokers isn't exactly the first choice of most printers but DLS has shown us how it's done. The company has grown from a 1,550 square foot startup to a substantial enterprise with over 240,000 square feet of production facilities located in four states. And they did it all one job at a time. This takes discipline, excellence and an uncommon commitment to customer service.
Bob Hakman concluded, "A few years ago we were seeing the market place in kind of a death spiral because we didn't see the market growing. Now we're seeing signs of life and we're seeing products coming back to North America to be produced. We're seeing production growth of 3 to 4% which we haven't seen for a long time. Wages are rising in Europe and in North America there is a lot more (use of) robotics and automation than before. These factors are balancing the competitive scales and we're seeing more and more business coming back to North America from Europe and even the Far East.
The days of the dark and often dirty production shops are falling away and today we're seeing clean highly automated shops doing the work. It's a much better production environment than just a decade ago. We also have relatively cheap energy now compared to the rest of the world and that too is having an impact. Certainly these changes are all good signs for North American printers both now and well into the future."