Indiana Carton's third generation is set for success!
Posted: January 03, 2019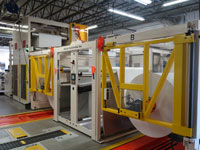 The Martin MCBWW auto butt splicer at Indiana matches the press speed of 305m/min on rolls up to 1702mm diameter
Indiana Carton Company has been in family ownership since its foundation in 1933. The current President, Kenneth D Petty, who succeeded his Father, David L Petty and Grandfather, Kenneth H Petty, is quick to credit the family elders for the company's continued success, stating: "We have more than eight decades of experience and knowledge supporting our every move, and it is all unconditional with the Company's best interest in mind."
Long established and with a high reputation for customer service, Indiana Carton, like so many of its kind, had gone through a long period of under investment during the 1980s and '90s, and matters had come to a head at the turn of the century when the family board of directors, chaired by Ken Petty (Senior) had to choose between selling out to one of many offers on the table, or changing tack and bringing in new talent from a younger generation. To his eternal credit, he chose the latter, and while the intervening years have not been without their challenges, the company is thriving today under the management of the third generation of the Petty family, and this has culminated in a major investment programme to add wide web flexo carton production to its existing sheet fed capability.
To understand the reason behind this somewhat radical decision, one needs to look at the company's background and its business. Early days saw production of boxes mainly for permanent press shirts and pizza cartons, before that trade all went to plastic and corrugated respectively. Today, the company's main business is supplying high impact boxes, 85% of which are windowed, to the in-store bakery, supermarket, restaurant, and wholesale food manufacturing chains, where first impression is key.
All products manufactured at the Bremen plant meet the internationally recognised GFSI (Global Food Safety Initiative) standard, and the company is proud that it was one of the first carton houses in the USA to be accredited and certified SQF Level 2 and SQF Quality (formerly Level 3). Because of the nature of the contents (mostly food), the cartons have to be resistant to all freshness threats. These include heat, cold, moisture, handling, and microbial influences. But the cartons also have to have high visual impact to allow the retailer to maximise on marketing opportunities by promoting the brand, and maintaining quality from shipping to display, to 'over the curb'. This has resulted in the company acquiring a wealth of expertise that allows it to match the packaging to the product it contains. Whether it be a cookie, a cake, or a doughnut, each product places a different demand on the technology to maintain its freshness and visibility.
For example, solutions for hot, or cold, or ambient temperatures will dictate the box design and materials used, as will the ability to stack, its anticipated shelf life, and the recyclability of the board used. Products with high food-oil or fat content require a barrier to prevent decomposition and cross contamination, just as the window must be able to control airflow around the product. And, it's not just protection for humans that the company's boxes offer - one much-watched video on You-Tube features a black bear enjoying a doughnut from an Indiana Carton box in a neighbour's garage. The box survived - the doughnut, needless to say, did not!
With such specific requirements, the company has always researched technology very carefully prior to making the investment choice. This led to a MAN Roland 900 press being installed along with Bobst die cutters some ten years ago. The six-colour press is fitted with a coater and IR drying, and logistics at both feeder and delivery to allow continuous running at speeds up to 14,000 sheets/hour. The press is supplied by an industry workhorse 2008 GMC-1600 sheeter. In addition, there are two Bobst platens, a SPanthera 145 and an ExpertCut 145, both with automated handling and power register systems, which are complemented by five Bobst folder gluers, all custom 110 A3 size Alpina/Masterfold, in what is a typical sheet fed offset carton house.
So, when the time came for additional investment, the decision to add web flexo, made after an intensive three-year research programme, was a major sea-change in policy. The end result was the installation in 2017 of a Heidelberg Intro seven-colour line, capable of running at 1000 ft/min (305m/min) with a 65-inch (1650mm) web width and 40-inch (1016mm) repeat. The new press delivers the printed sheets to the die cutting department without requiring new or modification to existing tooling.
The Intro is equipped with the latest technology and includes an inline sheeter and an automatic washing system for all print units. It is fitted with carbon fibre chambers, which offer excellent stiffness and rigidity, some 300% better than aluminum. With their lighter weight, they also allow quicker cleaning and maintenance, and therefore a safer working environment.?Heidelberg Web Carton Converting GmbH (formerly Gallus Stanz- und Druck, and prior to that BHS) provided training during the start-up and the early production period to ensure that Indiana Carton was able to realise the press' capability at an early stage.
"We looked at every flexo press on the market, and in the end chose to align ourselves to the Intro, given its strong pedigree, print repeatability, scalability, and technical support from Heidelberg. It had a good track record and first-rate testimonials from other users, and we liked the print quality we saw being delivered," said Ken Petty. But to maximise on the Intro's capability, Indiana Carton had to choose from a short list of specialist roll handling manufacturers for unwind and splicing technology and accepted the recommendation of Heidelberg in choosing Martin Automatic. "Martin is, by most accounts, the industry's preferred supplier, whether for inline or CI flexo presses, and we were keen to use tried and trusted technology, because learning flexo was going to be challenge enough, and we did not want to invite additional machine trials to an already sophisticated project," he added.
The Martin equipment chosen and installed in Bremen is an MCBWW model automatic butt splicer. Matching the press speed of 1000ft/min (305m/min) on web widths on the standard model up to 67" (1702mm), this Martin has a maximum roll diameter of 72" (1828mm) and can handle weights up to 8000lbs (3634kg), although it is also available for 84" diameter rolls. The system includes a Martin inertia-compensated dual festoon system, a butt splice unit and two-position, side by side, inline cantilevered unwind spindles. The floor mounted integral lift tables, designed and supplied by Martin, load new rolls onto the spindles effortlessly. The controls integrating these components are all mounted in the equipment, allowing automatic roll unwinding, splicing and tension control.
A custom roll handling system, designed by MaterialHSA.com and manufactured by Harmax, allows operators to prepare up to seven rolls safely and maintain production. The system also includes a turntable, a lifting and stripping station for unwrapping new rolls, and kickers to deliver the rolls automatically to the unwind lift tables, on signal given by the Martin splicer. The layout also enables the same track to present rolls to a separate sheeting line adjacent to the Heidelberg press. "Each Martin splice cycle is assured, when matched with our Harmax manufactured custom designed system. The enhanced efficiency of delivering prepared rolls to the Martin splicer allows the production department to maintain a continuous flow of material, and maximises operator safety in roll handling," he said.
Continuing with the theme of efficiency, Indiana Carton is also very proud of its 'green credentials'. "We recycle 100% of our board scrap and all the water used in the printing process. We've fitted low energy lighting and high efficiency heating for minimal consumption, and all heat generated from production is re-used in the factory. Our forklift trucks even run on rechargeable batteries - so we feel our carbon footprint is as good as most, and better than many," he explained. The forklift trucks are also fitted with iPads to facilitate tracking and delivery, and the accurate management of WIP.
Under third generation management the numbers at Indiana Carton are impressive. A production unit of 164,000 sq ft (15,250 sqm) plus a dedicated warehouse of 20,000 sq ft (1,860 sqm), and a staff of 100 will generate around $35m in 2018, with plenty of scope for growth. A member of the ICG (Independent Carton Group), an informal but close-knit community of similar size converters, Indiana Carton has always been careful to grow into its new technology. As Alicia Petty MacDonald, VP Marketing & Administration commented: "Our customers know they can rely on us and depend on the consistency of our service. To meet their expectations, we continue to work hard at making it easier for them to do business with us. So, when we approach a game-changing project, like adding flexo, we always make sure we can perform before making any promises - even if it does take more time and energy!"
The Petty family has served the folding carton world for almost a century now, and while the tools of the trade have changed over the years, the company's drive to anticipate and meet its customers' requirements remains its number one priority.