Leading US bag maker improves production efficiency with Martin Automatic
Posted: February 12, 2019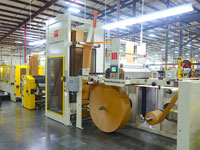 One of the two Martin MBS unwind/splicers installed at the Robinette plant in Tennessee
The Robinette Company has a history dating back to 1938 when it was supplying paper bags to the flour and corn millers of the eastern USA. Judge Robinette, the founder, eventually sold out to Stone Container in 1985. Two years later, son Joe, the present owner, re-founded The Robinette Company in Bristol, TN, to print roll paper for the milling industry, primarily for 'form-fill-seal' machines.
Robinette later diversified into industrial tapes for the gypsum industry, wrappers for asphalt shingles, and paper bags for aluminium can lids. As the packaging needs of the food industry became more complex, The Robinette Company expanded again by adding film printing and laminating to its product lines. The company later added poly bags and pouching as a natural extension of its film printing capabilities.
Today, the company is a full-service flexible film and paper packaging manufacturer and converter specialising in sustainable packing for the food, beverage, nutraceutical, construction, textile, and health care markets. Its three sites include a 100,000sq/ft headquarters and flexible packaging facility in Bristol, TN, a 125,000sq/ft paper bag converting facility, and a 100,000sq/ft warehouse in Piney Flats, some 15 miles away. Overall, more than 300 employees are involved in a 24/7 production programme.
The printing capabilities in Bristol and Piney Flats include five printing presses supported by a complete graphics/plate department, and a full complement of winding and laminating machines. In 1999 The Robinette Company acquired the assets of Prescott Paper Co of Canada and the former Central States Diversified of Florida. These assets and the Robinette machines were installed in Piney Flats to form the largest can-end bag factory in the world. These bags are used to transport the ends of beverage cans and are produced in their millions. Operating 20 machines the Piney Flats plant produces more than one million quality bags per day, and Robinette is now the largest supplier of charcoal bags in North America.
The Piney Flats facility is capable of manufacturing a variety of SOS (Self Opening Square), pinch bottom and can lid bags on its 12 Weber, four Matador, and two new Holweg Weber lines. Volumes are high, with more than 200 million can lid bags and more than 175 million SOS bags produced annually, so speed and consistency are vital to Robinette. The performance capability of the new Holweg RS 37 lines warranted automated roll changing, and the company turned to Martin Automatic to specify and supply the technology, based on its experience with the manufacturer's equipment on a narrow web press at its Bristol facility. The result is an installation of two of the manufacturers MBS non-stop unwind/butt splicers that are mirror images of each other to allow one operator to handle both splicers with ease.
The two Holweg lines are capable of 400 bags/minute on a web width of 900mm. They are designed for long bags (up to 1500mm) using paper stocks from 70 to 125gsm. Cut-off is variable from 400mm to 1560mm depending on the number of grippers, and bag widths can be from 70mm to 380mm, with up to 80mm gussets. Standard flap size is 40.3mm. The Martin MBS unit on each machine changes rolls automatically, without slowing or stopping the line. Importantly, each Martin is equipped with a 'spot-splicing' feature and integrated with the Holweg so that splices avoid the perforating knife and tucking blade, preventing machine damage and downtime.
According to Tim Wilhoit, Plant Manager at Piney Flats: "The two Holweg/Martin lines have produced as many bags in the first eight months of 2018 as the five decommissioned Matadors managed in the whole of 2017. We have also seen a reduction in staffing levels of 29% and a similar 30% drop in waste levels. Significantly, there has been a massive 95% cut in downtime on roll changes that occur every 30 minutes."
Working 24/7, Robinette eventually aims to replace 13 machines with four, by taking advantage of the greater efficiency that automation brings. But, as Joe Robinette explained: "Far from automation causing us to cast off loyal staff, here at Robinette we pride ourselves on a stable labour force in which re-skilling and re-deployment are key to increasing efficiency and improving the bottom line."
Renowned for its high customer service element and wealth of expertise in package innovation, Robinette is attracting work back to the US that had previously gone overseas. Quality and sustainability are prominent features at the company, with SQF accreditation (ASI Food Safety Consortium) and SGP (Sustainable Green Printing Partnership). The Robinette Company is also a leading member of the FTA. An astute policy of continual investment has put this American company at the top of the tree, and it looks unlikely to vacate that position any time soon.