Zolemba improves production efficiency by 20% - with Martin Automatic technology
Posted: January 21, 2020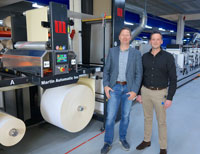 Richard Rensen and Marthijn Kieneker claim the Martin Automatic MBS has saved 20% on machine downtime compared with manual roll changes
Netherlands based label converter, Zolemba BV, has installed a Martin Automatic MBS unwind splicer to improve productivity at its plant in Haaksbergen. The MBS non-stop unit, which is fitted to a 530mm converting line that has two flexo print stations and two die cutting units, has made a significant difference to machine downtime for roll changes with the line typically running at 120m/min.
Starting life as an online business that had a requirement for small batches of shipping labels, owner and CEO Richard Rensen soon realised that buying in bulk and re-selling was the way forward and created two companies to handle this business: Label XL for printed stock, and Label Discounter for blanks. In 2017 these were amalgamated into Zolemba, which was one of 10 companies selected and supported by the Dutch Government to expand overseas trade.
Today, Zolemba employs 50 staff at its modern 4,500sq/m facility and in 2019 will generate label sales of €9m working a double-day shift, five days per week. Introducing his company, Rensen explained: "We have a very strong green mentality here - in fact environmental protection is part of the company's DNA. We strive to find less impactful means of production, both in terms of efficiency and the materials we use and are constantly engaged in a programme of product innovation."
It was when looking for ways to achieve a better level of production efficiency that Zolemba first became aware of Martin Automatic technology at Labelexpo in Brussels in 2017. A meeting with the Martin's European Sales Manager, Bernd Schopferer, set up a machine demonstration that highlighted how an automatic unwind/splicer could improve productivity at Zolemba. Over the following months a good working relationship was forged, resulting in an order being placed and the machine being commissioned in January 2019.
Now, 12 months on from installation, Chief Production Officer at Zolemba, Marthijn Kieneker says: "The MBS is working perfectly and performing as promised. In fact, we're achieving even better figures than we had predicted with the Martin. With up to 16 roll changes per shift and a saving of around 10 minutes on each, the numbers add up to major savings," - and that is not taking into account the part-used rolls of different sizes that can now be utilised, and the low residual waste on each that can be achieved with automatic splicing. Capable of handling rolls up to 1016 mm (40"), the MBS also offers the opportunity to splice from one roll of material to another at standstill - for example when effecting a job change.
"There is no doubt that non-stop is the way forward. The Martin MBS has shown us how to improve productivity and the benefits it brings, which we have extended to the handling of the matrix waste with the addition of a pneumatic removal system. By removing previously unseen bottlenecks in the production process, automation acts as an accelerator. We estimate the MBS has given us more than two extra hours of production on each shift - that's a major shift in efficiency!" added Rensen.
With digital inkjet as well as flexo print capacity in-house, and both laser and conventional die cutting, Zolemba is well equipped to satisfy the market demand for short and long run jobs and is constantly striving to reduce its carbon footprint. One example of this is an extra benefit of non-stop production. By keeping the production lines running there are no issues with damage to the substrate caused by residual heat from the UV curing lamps.
Concluding for Martin Automatic, Bernd Schopferer commented: "We are delighted to be working with such an environmentally-conscious converter. The more we can educate the market about the value that automation brings to reducing waste, the better for all concerned. Customised solutions are the best, and Martin Automatic is second to none in this field."