Iconex and Martin Automatic - a 25-year partnership that's helping to beat Covid-19
Posted: August 20, 2020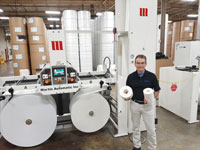 Jim Price with rolls of sanitizing wipe material
The recent installation of four Martin Automatic MBS splicers at Iconex in Morristown, Tennessee, marks a significant milestone in the ongoing partnership of two market leaders - it also comes at a time when the world is witnessing one of the most widespread pandemics in history - one that has prompted a surge in demand for sanitizing and protective products.
Iconex has long been one of the leading suppliers of receipt and label solutions to the US market, with two facilities covering a total of 400,000 sq ft in Morristown, plus an additional site in nearby Jefferson. In total, the company now employs close to 500 people in Tennessee with production split between label and point of sale (POS) products.
Director of Technical Innovation and former Plant Manager, Jim Price, explained: "We like the fact that we're committed to manufacturing in North America and supporting US families, and we're willing to invest in equipment that makes us viable and competitive against imported products," alluding to the extensive range of Martin technology installed across the company's production sites - it has plants in four other US states, plus Mexico, France and the UK.
The new MBS splicers were fitted to both existing and new ETI Cohesio lines, initially to support the company's growth in innovative labels. With a wide range of capabilities on different stocks, Martin Automatic MBS butt splicer technology is ideal for flexible production capacity. But, with the rapid and unprecedented spread of coronavirus across the US, the Martins have been pressed into service by Iconex switching part of its label production capability to converting paper rolls into hand sanitizing wipes.
Price says they are currently producing around 20,000 rolls/day for a wipes customer that would gladly take more than twice that capacity. However, Iconex has a long-term label contract with a major international online retailer that it needs to fulfil, and e-commerce has seen a substantial increase since the onset of the virus. To help meet its customer's need for wipes, Iconex has started converting the product on one of its slitter/rewinders that is customarily used for cash register rolls. Price turned to Stewarts of America, a South Carolina-based manufacturer of precision perforation technology to supply a perforating unit on an accelerated lead time. Needless to say, the Martin unwinds on these lines have no problem coping with this change of use either.
But, it's not only their flexible capacity that impresses Price. "We have had other brands in the building that we couldn't get to work, where the factory support was non-existent. By contrast, some of our Martins date back to the 1990s and are so reliable that we never give them a second thought - they run like they're brand new, they never break, and never miss a splice - and they've been doing that 24/7 for more than two decades. That's the kind of predictable component you want in your production. Why would you mess around with anything else when you have that sort of consistency in your plant?"
Iconex appreciates that it's the quality of Martin's design and manufacturing that brings about this reliability, and its commitment to understanding and responding to customers' changing requirements. Acknowledging the durability, he commented: "Press technology changes, but a Martin splicer is ageless", citing as an example, "when it was time to update and upgrade our flexo technology, we purchased new six-colour Mark Andy P5 presses. But we didn't need to purchase new splicers - we just moved the same Martin units over to the new lines that had been running for so long on our old Webtrons."
With Martin Automatic technology in daily use on both the label and POS side of the operation, Iconex has a breadth of expertise that many of its competitors lack. In 2017, its acquisition of RiteMade and PMCo confirmed its leadership in thermal receipt rolls. Now the largest supplier of thermal paper in the world, it lists leading home improvement, fast food, and retail giants as part of its prestigious customer portfolio.
As Jim Price concluded: "Whether it's labels or wipes, Martin Automatic's role in our supply chain is to help us produce as efficiently as possible - I'd say their technology is essential in giving us that competitive edge." The current global pandemic has put an enormous and unprecedented strain on all manner of resources worldwide. The way in which Iconex and Martin Automatic have responded is indicative both of the companies' history of cooperation and of their long-term visions. Investing in essential resources like Martin splicers provides Iconex with the flexibility to meet ongoing commitments while empowering them with the freedom to employ those resources in critical-need situations.