TEXTILE SPECIALIST ORVEC OPENS NEW MARKETS WITH MARTIN AUTOMATIC
Posted: October 30, 2013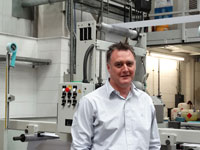 Orvec's Kevin Stamp sees a major business opportunity in healthcare
When one of the UK's leading converters of woven and nonwoven textiles, Orvec International, looked to improve the productivity of one its specialist manufacturing lines, it turned to Martin Automatic for a solution. The product, a printed non-slip tray mat, designed for airlines and other companies requiring a single-use, recyclable item, is manufactured on a six-colour Arsoma (now Gallus) EM 410 flexo line.
The tray mat, which is printed on 80gsm paper and then coated on both sides with a specially developed water based lacquer, before being dried at 120 degrees Celsius to create the non-slip finish, poses limitations on the linear speed of the press. So, the only way that Orvec could improve productivity was to reduce downtime caused by manual roll changes and the consequent waste they created.
After researching the market, negotiations were opened with Martin Automatic and a MBS butt splicing unwind was installed. After initial teething problems with the splice, caused by the temperature in the drier, a special 3M tape was sourced and the MBS has run without problems ever since, with some impressive performance statistics, according to Kevin Stamp, Managing Director at Orvec.
"We operate a double day shift work pattern here, and based on the average number of splices per shift, when compared with manual roll changing I estimate we save 208 hours per year with the Martin, and each splice also saves us around five metres of material. Expressed in percentage terms, the Martin MBS has improved our output by between seven and eight per cent. And best of all, apart from needing one replacement sensor, it hasn't failed in eight years of operation."
Developing the business into new markets is a key area for Mr Stamp, and he explained that the company had recently created a new division within the company, 'Orvecare', to focus on healthcare products. "There is a growing need in hospitals for cost effective supply of single-use, patient-specific, recyclable products to reduce the risk of cross contamination and lower risks of infection transfer, and we are currently working closely with our local NHS Authority on practical uses of the products that our technology and expertise can provide. In particular, the heat treatment we use makes the product sterile and recyclability of the product offer new avenues of approach."
He was referring to the adaptation of Orvec's non-slip tray mats for use as single-use patient menus, which can be printed both sides and changed each day. Other possibilities currently under discussion for development include pillow covers, pillows, bed sheets and an emergency blanket, known as 'Orve+Wrap', which laminates 5-ply non-conductive foil to needle punched felt. R&D at Orvec is seen as the lifeblood of the company, and Mr Stamp is quick to point out that its policy is one of active involvement and participation of staff at all levels.
"We were acquired by Phipps & Co in 2006 and they are a very forward thinking organisation that provides us with the security that comes from continuity, and an investment fund for developing the company and its products." One of these key investments was the establishment of a production facility in southern China. The wholly owned subsidiary, which is located in Xiamen about one hour from Hong Kong, has been set up as a fully European compliant facility that mirrors the working practices of Orvec's UK business. Currently producing three million single-use pillow covers and two and half million headrest covers each week, it employs 80 of the combined staff total of 126 across the two plants.
Looking ahead, Kevin Stamp sees great potential for new products within the healthcare industry. He explained: "One particular product we are working on is designed to maintain patient temperature during surgery. Medical staff tell us that a one degree drop in body temperature increases the risk of infection by 60 per cent, and can cost up to £12,000 to treat." With this and other products it is developing, Orvec clams it can turn a waste cost-neutral facility, like a hospital, into one that recycles its disposable products and shows a cash return.
If Orvec is successful in growing its healthcare business, from around 2 per cent at present to perhaps 50 per cent of total sales, Mr Stamp foresees the need for more automation and staff to handle the volume of products required. Other developments include the semi-automatic production of table linen that would boost output from one unit every two minutes to 30 units per minute, and reduce labour cost from 35p to 1.2p each. The process also uses three per cent less material. "It's not good enough these days just to reduce costs - you have to have something extra to offer, and I believe Orvec is one of the leading pioneers in this market in terms of product development and the use of automation, like the Martin splicer" he concluded.
Currently enjoying an annual turnover of around £13.5 million, Orvec has shown an increase of almost £1 million a year since Kevin Stamp became Managing Director in 2010. With his plans to diversify and grow the company's portfolio of products, it is hard to see anything other than continued success for the Hull based company