insignia: A leading Australian label printer gains volume and efficiency with Martin Automatic.
Posted: February 08, 2012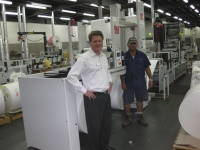 Jack Winson, insignias General Manager with operator Brett Hardiker.
Australia, the smallest continent in the world that is known as home to kangaroos, koalas, kookaburras, is also home to insignia, a forward thinking label printer. insignia, with two plants located in Brisbane and Melbourne, was started as an off shoot of parent company Signet, which has an annual turnover of $80m. Founded in 1967 by John Winson , Signet was initially a marking business selling a range of stenciling products. Through the 1970's and 1980's, the business expanded into general packaging lines and labels as the technology developed. In 2000, insignia was launched to focus on the labeling sector.
insignia is run by a management team headed by Jack Winson, son of the founder. Early on, the new company's business focused on thermal labels, selling barcode printers and manufacturing the associated labels. The 40 person manufacturing team operates 10 flexo presses (Mark Andy and Gallus) and in the last five years, the company has focused on the prime label sector. The dedication to delivering quality products and service, coupled with a team of passionate staff, has helped insignia produce award winning labels. In 2009, they won best in show at the LATMA (Label and Tag Manufacturers Association of Australia) awards.
Insignia recognizes that a product's packaging and labelling is the crucial expression of a company's brand at the point of sale. By conducting business through a framework of common strength, stability and mutual understanding, insignia actively works in synergy with clients, toward their business objectives. And with a customer list that includes such companies as Nestle, Shell, Avery Dennison and Fosters, insignia realizes that they need to go above and beyond the status quo. insignia is so steadfast in their belief of "above and beyond" service that they made it part of their mission statement:
"Through People, Process and Passion build a labelling business which brings unprecedented delight to customers, fear to competitors and delivers long term security and opportunity to all of us."
According to the company's website, insignia's values are: "embrace change to improve and grow, and act with diligence by taking responsibility for our work and actions as we strive to achieve our goals." With over 40 years of experience in marking and labels, insignia understands that making the right machinery decisions is crucial to its success as they move forward in a very competitive environment. In addition, the company is environmentally aware and committed wholly to the preservation of the environment through its business practices. Operations manager, Howard Gill, attended Label Expo Europe in 2009 with the task of sourcing equipment that would improve the company's productivity and reduce its waste. While there, he spent some time at the Martin Automatic booth watching demonstrations of the flagship butt splicer, the MBS. Martin has installed nearly 1000 MBS butt splicers on narrow web presses around the world. The MBS unwinds rolls of stock, from film to light board, without stopping the press and while providing exceptional tension control over the web. Because the press does not stop for manual roll changes, users of the MBS and other Martin products typically experience increases in productivity, improvements in print quality and significant decreases in material waste.
Gill quickly saw the efficiency gains and waste reduction that an automatic splicer would offer insignia. But while he knew the Martin Automatic brand and the excellent reputation the company has in the printing and converting industries, he had concerns that the Martin butt splicer might be too expensive for his budget . After consulting with David Ho, General Manager/Asia Pacific for Martin Automatic, he was pleasantly surprised to hear that Martin offers global support for their machinery and he received a competitive offer and came back to Australia with a butt splicer on the top of his shopping list.
The new butt splicer was installed on a Mark Andy 2200XL press at insignia's Brisbane operation in July 2010 and was up and running promptly, thanks to Keith Chao, Martin Automatic's Service Manager for Asia Pacific. Providing continuous unwinding of rolls up to 1000mm diameter and 330mm wide, the Martin butt splicer quickly justified Howard Gill's confidence. "It operates faultlessly and productivity has improved significantly. In an industry where on time delivery is critical, efficiency gains -while growing volume-are the keys to making it in a competitive environment. Our Martin butt splicer helps us to do just that."
It appears that Melbourne's motto is equally true for insignia: Vires acquirit eundo "We gather strength as we grow" and after four decades, insignia is still growing stronger every year.