Pemara Chooses Martin Automatic for Its New Gallus in Jakarta
Posted: August 06, 2010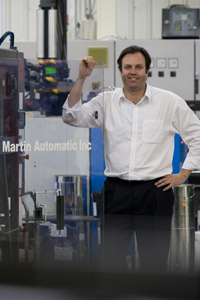 Andrew McNamara, General Manager of Pemara Labels, with his existing automatic rewinder - his latest investment in Martin technology will go to the plant in Jakarta.
Pemara Labels, one of South East Asia's leading converters, with headquarters in Melbourne, has ordered Martin Automatic equipment for its new Gallus press, due to be delivered in January 2010. The Gallus will be fitted with Martin STS and STR automatic unwind and rewind units when it is installed at the company's Jakarta production facility, one of three sites in Asia - the other locations are Kuala Lumpur and Ho Chi Minh City.
This latest investment in Martin equipment follows on from the installation last year of the American manufacturer's MBS and LRD non stop unwind and rewind units at Pemara's Australian production facility in Melbourne. These were fitted to a 9-colour Gallus EM 410 flexo/screen combination press that also featured hot and cold foil techniques. The choice of Martin Automatic followed visits by a Pemara management team to Labelexpo Europe in 2007.
According to the company's General Manager, Andrew McNamara: "We wanted to improve our production efficiency to cope with the tougher trading conditions being encountered in the Pacific Basin, but were wary of the technology. A visit to three different Martin users was all the convincing we needed."
Pemara specialises in supplying self adhesive labels to the household, personal care and pharmaceutical markets, as well as for food and beverages. In addition, the company is involved in security work, in the form of postage stamps and Fix-a-Form promotional labels.
In addition to Gallus presses, the company also uses Nilpeter lines, and in 2000 was amongst the first label converters in the Southern Hemisphere to install HP Indigo presses, fitted with ABG's Omega Digicon converting system. Its latest digital investment, in June 2009, was an HP Indigo WS6000 matched with a Series 2 Digicon.
Established in Victoria, Australia in 1966, Pemara is a privately owned company that has expanded to become a growing regional business. Today, it employs 250 people across its four production sites, and is managed by a professional team spread across Asia.
Concluding, Andrew McNamara added: "Our experience with Martin technology has been excellent. The equipment has delivered results exactly as promised, and we are looking at a 2-year payback on our investment."
Pemara Labels
Tel: +61 3 9542 7777
www.pemara.com.au