Berson Combines Gallus with Martin Automatic - For Label Productivity
Posted: March 04, 2009
Martin Automatic's Ed Pittman with Berson's Produktion Manager Thomas Doyen and Plant Director Frédéric Houdelot
A 'need to improve productivity and reduce waste' were given as the prime reasons for one of France's leading label converters, Berson SA, investing in Martin Automatic equipment for two of its latest Gallus production lines. The Martin machines, two MBSF (F for filmic capability) automatic non-stop unwinds, and an automatic non-stop LRD rewind have been fitted to a Gallus EM 410 and Gallus RCS 330 presses at the company's modern plant at Cebazat in the central Auvergne region of France.
The decision to automate two of Berson's label lines was made partly from first hand experience of what an automatic unwind could offer in the way of greater efficiency, and also because of the close working relationship between Gil Ferrari, Technical Manager for the Autajon Groupe (Berson's parent company), and the Gallus sales representative for France. With 10 Gallus label presses installed at Berson a degree of standardisation in the ancillary equipment fitted is desirable, so not only is the performance of the Martin Automatic machines being scrutinised by Berson, but by the whole Autajon Groupe.
Principally a folding carton converter, the Autajon Groupe moved into label production in 2000. Today, the Groupe has seven label plants in France as well as production facilities in Switzerland and Germany. Berson, known as 'Centre' specialises in high quality cosmetics labels for an impressive list of customers including L'Oréal, Yves Rocher, and Coty-Lancaster, while in the automotive industry, Michelin and Valeo are leading brand owners that use Berson produced labels.
Berson was originally founded in 1967 and began production of self adhesive labels in 1975. The company moved to Cebazat in 1979, and today operates from a 5200 m² factory unit that employs 18 staff and generates a €10m turnover per year.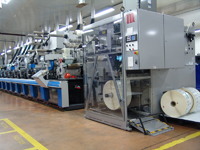 The Martin Automatic MBSF and LRD units are specified to match the perforamance of Berson's Gallus RCS 300 line
With a reputation for quality products, the performance stability offered to Berson by Martin's automated unwind and rewind units allows the highly sophisticated Gallus RCS 330 to run non-stop, especially on more difficult or costly substrates. Typically, the Berson plant converts mostly filmic labels, PP, PE, and PET, as well as a large volume of clear work for that 'no label' look.
Running in straight flexo mode, the Gallus RCS 330 prints at 150 m/min, reducing to less than 100 m/min when run in combination with rotary screen. The Martin Automatic equipment is designed to match exactly the performance capabilities of each press to which it is fitted. In this case, the MBSF unwind is rated at 160 m/min and is capable of handling rolls up to 1016 mm in diameter for paper substrates and 762 mm for filmic material from 20-micron upwards. The MBSF fitted to Berson's Gallus EM 410 is similarly specified.
The MBSF unwind unit features Martin's inertia compensated festoon system, a patented splice unit designed to provide a diagonal butt splice and a two-position cantilevered unwind with Martin's lift and load system. Controls for these components are integrated in the machine, allowing the operator easy management of roll unwinding, splicing and tension control.
The Martin LRD automatic transfer rewind uses a cantilevered spindle arrangement that allows rewinding and automatic unloading of rolls as small as 203 mm with only two spindles. Its AC vector drive with dancer tension control improves accuracy and flexibility, and the unit is designed to reduce cycle times and facilitate customer supplied roll handling to suit specific needs.
According to Frédéric Houdelot, the Site Director at Berson:
"The Martin equipment has saved us minutes each hour in reel changes and significantly reduced our waste, which is appreciable with the more costly substrates we run here." The company has a strong policy of investing in a new press every two years, and Mr Houdelot is quick to point out the value of the Martin equipment in allowing the latest presses to reach their full production efficiency.
Installation of the new equipment was unintentionally staggered over several weeks. First, Gallus delivered the RCS 330 early. Then, the Martin Automatic equipment was delayed in shipping from the USA by a severe ice storm, only to be caught up in an industrial dispute when it eventually landed in Marseille. The net result was that the MBSF fitted to the Gallus EM 410 was moved to the new RCS 330, which ran with a rewind provided by Gallus. When the new MBSF and LRD arrived for installation, Martin engineers moved everything into its correct location.
According to Mr Houdelot:" The Martin engineers did their best to make up for lost time, working long hours to complete the installation. It was a great help that they were able to communicate and work well with our own staff." Asked for his early impressions of what automated handling can offer, Mr Houdelot commented: "It is particularly beneficial on longer runs." In this case, Mr Houdelot classifies 50,000 labels as a short run, which equates to 500 - 1000 metres of substrate, or less than one roll.
Looking ahead, Berson has a new combination press on order for delivery in the Summer. Although the first machine of its type at Berson, there are already three elsewhere in the Autajon Groupe. It has been ordered to concentrate on short run work, currently the domain of Berson's older lines.
Concluding, Ed Pittman, Martin Automatic's European Sales Manager responsible for the Berson contract said: "We value this order from Berson, not just for the improved efficiency we know our equipment will bring to its production, but also because it represents a stamp of approval from the Autajon Groupe, which is one of France's leading packaging converters."