Diversified Labeling Solutions, Inc. and Martin Automatic-a win-win partnership
Posted: February 10, 2009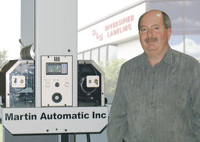 Bob Hakman - Diversified Labeling Solutions
Diversified Labeling Solutions, located in the Chicago suburbs, began its relationship with Martin Automatic four years ago when Martin was able to meet Diversified's urgent need for a splicer. Martin's responsiveness and the benefits provided by its splicers have resulted in a partnership that continues to flourish. Diversified's owner Bob Hakman has never forgotten that Martin came to his rescue.
Loyalty certainly plays a large part in Hakman's decision-making process but as his plant manager, Dan Petersen, says, "you can't ignore the efficiency that automatic splicing adds to your press. With the Martin splicers on our presses, we run the equipment non-stop for two 10-hour shifts every day. When we calculated the return on investment, we figured we were saving at least 1.5 hours per day per press on roll changes alone, not to mention the reduction in material waste and better quality tension. Ultimately, our presses just run better with Martin splicers on them." In 1984 Bob Hakman was an accountant working for a printing company. He could see the writing on the wall and it didn't look good. The label printer was about to go under and Hakman was going to be out of a job. With only two years of industry experience Hakman decided to buy a press, an Allied 1B, and teach himself how to use it. The gutsy accountant didn't know that his initial investment of $65,000 was going to lead to a $45,000,000 company with 156 employees, 24 years later.
It was slow growth for the first four years. Finally, United Airlines gave Diversified its big break and placed an order to print the airline's baggage tape. Business was just getting better and better for the accountant turned printer. Diversified landed another large print job that required a butt splicer for their 18 inch, 10 color Webtron press. After asking other people in the industry what splicer they recommend, the response was overwhelmingly in favor of Martin Automatic.
"The job necessitated a quick turn around and it was a no-brainer that we needed an automatic splicer on our press," reports Hakman. "I called my Martin salesman and asked him to pull a rabbit out of a hat and get me a splicer within the next week-and he did. You don't forget someone when they go out of their way to help your business succeed." Since then, Diversified has bought several additional splicers from Martin and, according to Hakman, "as we look to future expansion we will continue to buy Martin splicers because of the partnership that has been established."