"Better Labeling - Clear and Simple"
Posted: May 08, 2008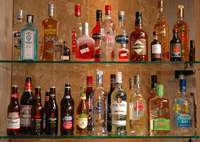 Spear, clear pressure sensitive labels
At a time when many converters are seeking to diversify their product offerings, Spear, headquartered in Mason, Ohio, maintains their focus on clear pressure-sensitive labels for the beverage, food and personal care industries. "Better Labeling-Clear and Simple" is more than their slogan, it is a focus that has led them to international success.
According to Dan Muenzer, V.P. Marketing, "We don't try to be everything to everybody." Muenzer believes it is this sustained focus that has helped Spear earn business from some of the largest beverage manufacturers in the world-an impressive achievement considering that Spear doesn't advertise or participate in trade shows.
The company began in 1982, as a flatbed screen printer. By 2007 Spear had three facilities in North America and one in Europe. Late in 2007, the company opened a new 5500 square meter facility in Johannesburg, South Africa, starting operations with their second new Cerutti rotogravure press. Processes now include rotary screen, UV flexo, gravure, hot stamping and combination printing.
Their expansion has been primarily driven by the beverage industry's continuing use of clear pressure sensitive labels. Realizing that these labels offered better color, more creative designs and the flexibility to use clear, opaque, and metallized films, the industry has adopted PS labels as a standard.
Spear understands that a long-term supplier needs to be close to the market for more than financial reasons. Long distance shipping extends the delivery time, while close proximity to customers makes press approvals easier and more timely. Spear also knew that if they wanted to do business with the large manufacturers in the beverage industry, they must not only produce well, but also maintain that production and always deliver on time. When working for companies like Coke, Bacardi, Pepsi, Anheuser-Busch and Diageo, just to name a few, it is imperative to insure that production is always on target. Consequently, Spear has duplicated many of their processes within their five facilities. "Our process redundancy assures our customers of critical production capacity and underscores our ability to deliver on time," said Dan Muenzer.
That duplication included incorporating Martin splicers and rewinds. They now have a total of thirty-one pieces of Martin roll-changing equipment-including MBS and MBSF butt splicers and LR automatic transfer rewinds. Initially, Spear looked to Martin's non-stop splicing technology to reduce downtime; however, automatic splicing has also delivered significant waste reduction benefits. "Our splice-related down time was dramatically reduced and our materials waste was reduced by 3-4%," reports Muenzer. The Martin equipment supports a variety of printing platforms including Comco, Gallus, MPS, Chesnut and their own make-a GMC. (Spear purchased the New Hampshire-based press manufacturer in part to build special presses for their expanding operations.)
Spear's high-profile customers represent some of the largest names in the beverage industry. "Our customers are under increasing pressure to minimize their packaging waste and be more environmentally responsible. We're staying on the forefront of waste reduction efforts by providing a liner and matrix recycling program (see sidebar). Plus, using efficient equipment like our Martin splicers and winders is helping us make great strides in waste reduction and energy efficiency," continued Muenzer. Spear also has incorporated other eco-friendly measures that include the use of recyclable adhesives, biodegradable materials, and water-based inks. It is initiatives like these that have helped the company grow and prosper while helping their customers align with eco-Friendly processes.
In a time when other converters are chanting the mantra of diversification, Spear chooses to explore their proven niche and expand it into a global enterprise. Spear supports their strong market presence by offering customers high-value services such as their patented processes and application engineering. "Today, printing high-quality labels is not enough. We take a more holistic approach and get very involved in our customers' entire labeling process-helping them optimize applications for the best possible quality and production. I guess that's why so many of our customers think of us as the no-risk option," concluded Muenzer.
So, what's next? Spear is looking to expand internationally and is considering Mexico, Thailand, Vietnam, and China. No matter where the company builds their next plant they will maintain their pressure sensitive label focus while continuing to be good stewards for the environment.