Martin Automatic Celebrates 50th Anniversary
Posted: August 02, 2018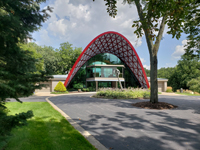 The house that Martin built!
Welcoming the international media to company headquarters in Rockford, Illinois, VP Sales & Marketing, Gavin Rittmeyer, said Martin Automatic was delighted to be celebrating 50 years of global leadership in web automation that embraces both the essential and the extremes of engineering. Founded on the belief that simplicity provides the best reliability, he said: "We believe true sophistication in technology is accomplishing the required task with the fewest number of parts. And to that end, we intentionally approach each design with these values in mind, whether automating a $100m asphalt shingle making line or a $1m label press."
Established in 1968 by the late John Martin, and now owned by his son Jordan, the company is vertically integrated, with all design, manufacturing and production at headquarters in Rockford, where 165 employees, including sales and service personnel located around the world, have successfully installed and maintained more than 7,500 high-performance unwind, rewind and tension control machines across 56 countries in its 50-year history. Today, around half of all machines sold are based on standard models, with the remainder being purpose designed and manufactured to order.
"There is a definite Martin culture that one experiences, even when just visiting - it flows from the people that work here. It has produced a decades-long multi-generational workforce where freedom to evaluate and take risk exists - there is a true sense of entrepreneurial activity in every department. It is contagious, and creates a vibrant, dynamic, and challenging environment that brings the best out of people," he said.
Along the way, the company has patented many of its inventions, including the inertia compensated dancer roller, the basis for tension control across the company's wide range of splicing and web handling equipment. More recently, the development of Airnertia(tm) idler rollers is beginning to gain global acceptance for the way in which it transports delicate wide webs in high speed, low tension processes in the tissue sector, and highlights Rittmeyer's claim that Martin's knowhow in web automation extensive. "We have technology to automate processes that run from 10 to 900 m/min, web widths from 25 to 4000 mm, and rolls up to 8000kg with diameters up to 2400 mm. Equally, we have run 30-micron LDPE and 600-Micron paperboard on the same machine - we know of no-one else that has run this wide a range of materials on a single machine," he added.
The substrates mentioned hint at the broad range of markets served, from labels, laminates and boxes, to non-wovens like disposable hygienics, and roofing shingles and furniture - and this list is far from comprehensive. Currently, business is split approximately 25% each between narrow web, non-woven, board, and other specials. But, whatever the industry or market, the Martin mantra remains unchanged - to give the customer the fastest return on investment (ROI) and lowest total cost of ownership (TCO). And to maintain this, literally thousands of samples are tested and kept on file, and the R&D department is one of the most active in the company.
Earlier this year Martin created an extra 20% production capacity by streamlining its shop floor to cope with increased demand for some of its larger machine types. It typifies the company's careful husbandry of resources, where improved efficiency of existing facilities is prioritised over straightforward expansion. The company says its conscience acts as a guardian for customer resources too. This frugality runs through Martin's approach to engineering. "Less is normally more - if you look at how far we take the basic laws of physics in our pure-form engineering, you will see how it sets us apart from our competition, who resort to the crutch of electronics far sooner, " he added.
"Our experience with so many diverse webs and industries allows us to continue to evaluate and reinforce the value of existing design elements or improve them. This process filters down to our customers and their machines in every sector. It continually vets our designs, and ensures that our customers enjoy the some of the most tested and proven designs," he explained.
The day was topped off with a visit to the unique Martin corporate headquarters nearby. Originally built for John Martin when his previous house burnt down, it is the largest steel structure the company has ever made, and marks the 'extreme' end of the company's engineering skills. It is striking architecturally, and a fitting legacy to Martin Automatic's founder.