L&N Label Company Changes Working Practices With Martin Automatic
Posted: January 03, 2018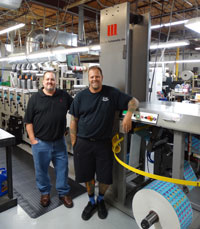 Chris Booth and Ersel Lambert reckon the Martin equipment is saving €300,000 a year!
Located in Clearwater, on Florida's Gulf coast, family owned L&N Label Company is one of the latest narrow web converters to reap the benefits of fitting automatic unwind/splicing and rewinding technology from Martin Automatic. But to make the most of the new equipment, the company and its machine operators had to re-educate themselves into a new and more efficient way of working.
The company, which has a variety of printing and converting technology, has built a business supplying self-adhesive labels to the food, beverage, wine and beer markets, amongst others, but in addition has an ongoing contract to supply decorated bandages to one of the leading global manufacturers.
Plant Manager at L&N, Chris Booth explained: "The tan coloured adhesive bandage that you put on your child's cut finger is long gone these days - we print a huge number of multi-colour designs from cartoon characters to abstract images. Children actually collect the different designs and stick them to books and various other things that are not wounded!"
To cater for this work, L&N has dedicated a 10" (280mm) wide, eight-colour Mark Andy 2200 flexo line press to its sole production. The bandage material, an extruded 3 mil PE film on paper liner, arrives on rolls of 1000 lineal metres (3000 lineal feet), and the company converts around 500 rolls per month. Prior to adding automatic roll change, the frequent stops to change rolls were creating a large amount of waste.
What was needed was a way of reducing this waste while improving web handling on the stretchy material. The solution proved to be a Martin Automatic MBSC and STR. The MBSC ('C' for compact) is a fully automated unwind/butt splicer, capable of handling rolls up to 800mm (31.5in) diameter. Simple to set and operate, it changes rolls automatically, allowing the press to continue running by using the material stored in the festoon accumulator.
At the rewind end of the press, the STR rewinder automatically transfers the printed web onto a new empty core, while the turret rotates to present the completed roll to the operator for easy removal. In roll-to-roll mode, the STR places the splice from the MBSC on the outer wrap of the completed roll, or on the new core, as required by the process.
Although the Martins have been in full operation for only three months, L&N report stunning results, with dramatic waste reduction and improved product quality. Chris Booth continued: "Not only are we throwing away less of the expensive material, we are seeing higher average running speeds on the press and better downstream converting. When you are running 500 rolls each month, that's a major boost to production efficiency."
With the material costing up to $3.50/msi, and L&N converting around 1 million feet/month, the ability of the Martin Automatic equipment to reduce waste from over 7% to less than 2% has brought major financial benefits to the company. The only waste now is incurred during set up, and estimates are that annual savings of around $300,000 will give an ROI of less than 12 months. But the most obvious change since installing the Martin machines has been a new approach that L&N has adopted to its working practices. Machine Operator Ersel Lambert takes up the story: "Running the work continuously is awesome-the press really rocks-but we've also changed the way we set up jobs. We need to make sure that all elements are in place beforehand, because with the Martins, when we start a job, it's 'go time' and we're not stopping! This has needed a change of mind-set, and a whole load of new working practices." But the benefits are obvious and the rewards are huge for L&N. Simply put, they use fewer rolls, produce more saleable product, and save more than $36 every stop.
The Martin technology first came to L&N's notice in 2012 when it was seen at the Flexo Trade School, fitted to a Mark Andy P5 flexo press. This prompted discussions with Craig Thomson, Regional Sales Manager for Martin Automatic, who helped L&N realise the case for automating their 2200 line. He commented: "The type of work that L&N undertakes, and especially this decorated bandage job, is perfect for butt splicing and automatic rewinding. The material is expensive, difficult to handle, and needs to be run at a constant speed - all of which suits continuous operation, and more than justifies the investment cost. We are delighted, but not surprised, that L&N is achieving such outstanding results after just three months in production."
L&N Label Company, which was established in 1979, currently employs 22 staff and operates from an 1850sq/m (20,000sq/ft) facility. In 2016, it enjoyed sales in excess of $6m, of which the decorated bandage business accounts for some 40%. Other equipment in the plant includes two more Mark Andy presses, three Webtrons, an Allied Gear, and an EFI Jetrion digital press, as well as numerous converting and finishing lines.