Customised Converter Acucote Standardises on Martin Automatic Technology
Posted: November 29, 2017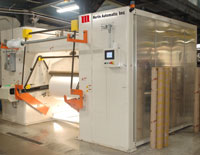 Acucote's newest RMAP rewinder from Martin Automatic rewinds siliconised rolls of film, paper and paperboard-and even supports the dryer of the coating line.
Established 30 years ago and still under family ownership, Acucote Inc. of Graham, North Carolina has long appreciated the value of Martin Automatic technology on its 61" (1.4m) coating lines, which operate at speeds up to 1000 ft/min (300m/min). The relationship began back in 1998 when Acucote installed the first of its Martin zero-speed splicers, along with a tension control infeed, for use on the first water based adhesive coating and laminating line. And was further confirmed when Acucote looked to improve the less than satisfactory experience it had endured with other manufacturers' rotating turret rewinders.
The solution proved to be Martin's innovative RMAP automatic transfer rewinder. Unlike conventional turret winders, the rewind spindles of the RMAP traverse horizontally. This linear design minimises roll travel as well as the tension upsets and web shifting associated with turret rotation. Paul Sanborn, Senior VP Operations, was also impressed with the RMAP drive system design. The system utilises two spindle drives: the first optimised for winding rolls starting at core diameter, and the second optimised for winding rolls to full diameter. The RMAP passes the roll from the first spindle to the second automatically as the roll builds. Each spindle position has its own brushless AC motor with a direct belt drive system, eliminating the need for potentially troublesome gearboxes, clutches and slip rings.
"Coating and laminating lines run best when they run continuously, so any downtime and wastage that can be avoided by reliable splicing and automated roll changing is valuable in today's highly price-sensitive market," he commented, adding that the robust dependability of Martin Automatic technology is a direct result of its clever design. "They asked a lot of questions before they gave us a quote - it was only afterwards that we realised the importance of this," he added.
Further investments followed in 2001 with two more unwind splicers and another RMAP rewinder on a new adhesive coating and laminating line, and again in 2004 with another splicer, equipping both of Acucote's laminating lines with Martin's automatic roll changers at the rewind ends, and at the wet and dry ends. In 2010, they replaced an existing unwind on a silicone coating line with a Martin ECPF splicer for paper, film and light board stocks.
Recently, Acucote replaced an existing turret winder on the silicone coating line with a Martin RMAP transfer rewinder. Whereas the previous turret had to sit proud of the dryer section of the line, taking up valuable floor space, the low profile of the RMAP allowed it to be installed underneath the dryer arch. In fact, some very creative engineering by Martin has allowed the RMAP to support the dryer. Finished rolls are doffed to a track supplied by Harmax Rollcon, which moves the rolls laterally to an up-ender across the adjoining aisle for easy transport by forklift.
Now, with eight Martin units in total on site at the Graham facility, Sanborn comments that despite the business switching from being commodity based product offering to more custom/solution oriented product lines, the automation that Martin brings has maintained or even improved efficiency on all the coating lines.
Acucote has five regional slitting and distribution plants around the US and currently employs 140 people including a national sales network. Focussing on silicone, adhesive coating and lamination, the company is proud of its customer-centric approach that allows it to tailor-make solutions for its customers' specific requirements. "The Martin Automatic technology fits us well because it allows us to handle a variety of substrates without issue. Their simplicity of design allows for easy maintenance in-house, with occasional fine-tuning by a Martin technician," he continued, and stated that as a result, the company occasionally achieves 100% up-time.
Perfectly equipped to support from single press companies up to large corporations, Acucote prides itself on application development, fast project turnaround and unmatched levels of customer engagement. Where its competitors typically stipulate large minimum run lengths and quote long lead times, Acucote proudly claims to turn stock jobs in 2 days and custom runs in 4 days...not weeks. Runs of as little as 5000ft (1500m) are common which take only 8-15 minutes to run off. "Our entire coating operation here now involves Martin technology and it has been fundamental to our success," concluded Paul Sanborn.