Martin Automatic appoints Tekaxess in France
Posted: July 31, 2017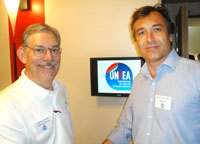 Tekaxess.jpg - Martin Automatic's Sales Manager for Southern Europe, Ed Pittman, with Gaetan de Charry of Tekaxess, who will be responsible for sales, parts, and service in France.
Leading manufacturer of high performance splicing, rewinding, and tension control technology, Martin Automatic, has announced the appointment of Tekaxess for sales, parts and service support in France, with immediate effect.
Led by General Manager Gaëtan de Charry, who has 27 years of experience in the graphic arts industry, Tekaxess already offers full sales, parts and service support to customers on a range of well-known international brands, including Lemu, Lombardi, Orthotec, and Shiki.
Speaking for Martin, VP Sales & Marketing Gavin Rittmeyer said: "We are experiencing a strong and sustained period of growth in demand for our automation, and see the appointment of Tekaxess as a strategic move in our plans to build market share in France."
Replying for Tekaxess, de Charry commented: "We are delighted to be working with such a leading brand, and are excited about the sales prospects for Martin technology among the converters in our territory. Our competitive market is very focussed on technology that improves production conditions, and reduces downtime in a safe environment."