Tralin Pak picks Martin Automatic to automate new high-speed paperboard line
Posted: March 30, 2009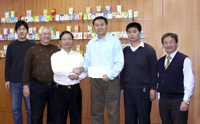 Caption: l to r: Min Zhang, Special Project Manager Tralin Pak; Pierre Grossenbacher, Senior Converting Advisor, Tralin Pak; David Ho, General Manager-Martin Automatic Asia Pacific; Jeff Bi, General manager, Tralin Pak;
ROCKFORD IL: Martin Automatic recently received their third order from Tralin Pak, China, a leading producer of aseptic packaging materials. Tralin Pak chose a Martin Automatic splicer (MTB) and a rewinder (RMAP) to go on their F&K press to form their first production line. When they added a second production line at the same site, Tralin Pak again chose Martin Automatic equipment to automate the process.
With the addition of their third state-of-the-art mega-factory in the heart of the Chinese dairy belt in Inner Mongolia, Tralin Pak once again chose Martin Automatic to provide an automatic splicer and rewind for their newest production line. A Martin Turret Butt Splicer (MTB) and a rewinder (RMAP) will be installed on a new high-speed BHS press which will be running paperboard at speeds up to 500 meters per minute. Tralin Pak's high level of satisfaction with Martin Automatic equipment has led to a partnering relationship with a bright future.
Mr. Wangtao, Purchasing Manager, Tralin Pak, says, "We have been very pleased with the way our Martin equipment has performed and are anticipating a good relationship with the company for years to come." David Ho, General Manager, Martin Automatic Asia Pacific, adds, "We always like partnering with companies that want higher production, less waste, utilize cutting edge technology and have high expectations from us, we have enjoyed working with Tralin in the past and look forward to being a part of their spectacular growth."