IPP Celebrates Major Investment with Grand Opening Ceremony
Posted: February 15, 2019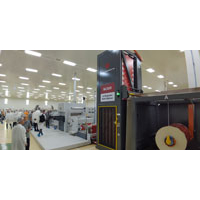 The Martin Automatic MCBIR supports a Heidelberg FCL 1010 Die Cutter with accurate in-register butt splices
To the beat of Indian drums and a performance by Malaysian traditional dancers and a Chinese Lion troupe, IPP (Interpress Printers), the joint-venture company that is now part of leading ASEAN business undertaking SCG Packaging, opened its new greenfield factory facility in Klang, Selangor Danul Ehsan, Malaysia on 15th February. The occasion was marked by a ribbon-cutting ceremony and the attendance of honoured guests including Mr H E Narong Sasitorn, the Thailand Ambassador for Malaysia, Mr Ong Kian Ming, Malaysia's Deputy Minister of International Trade and Industry, Mr Tanawong Areeratcharkul, the President of SCG Packaging Business & IPP BOD Chairman, as well as Mrs Sarah Casanova, the CEO & President of McDonald's Japan.
Founded in 1991, originally as a magazine printing company, IPP was subsequently taken over by Mr Ratha Kerisnan's new management team and switched to producing fast-food packaging products in 2006. Today, it is a leading supplier of folding cartons, formed trays, clamshells, wrappers and bags to a portfolio of major international brands. The acquisition in January 2018 of a majority shareholding by SCG Packaging, Thailand's largest packaging converter, was key to the ambitious investment programme that IPP subsequently embarked upon. When the new state-of-the-art factory in Klang opened, it housed an assembly of the top technology from the world's leading manufacturers of printing and converting equipment.
Top of the list is a Koenig & Bauer Flexotecnica EVO XD CI Flexo press fitted with a Martin Automatic MCBHD butt splicer and LRHS auto transfer rewinder. In addition, IPP installed a Heidelberg FCL 1010 Die Cutter fitted with a Martin Automatic MCBIR In-Register butt splicer, as well as a Taiwan Golden Tec sheeter, a Bobst Expertcut die cutter, and a Bobst Masterfold folder gluer. The press is fed by a Martin MCBHD automatic butt splicing unwind, specified to meet the speed and process requirements of the Koenig & Bauer press, which includes running materials from 30gsm paper to 310gsm paperboard. At the opposite end of the press is a Martin LRHS rewind, featuring a cantilevered spindle arrangement for non-stop winding and automatic delivery of printed rolls. The LRHS is equipped to wind multiple ribbons on individual cores. Additionally, IPP selected a Martin MCB-IR (IR for 'in register') non-stop butt splicer for the unwind on their new Heidelberg FCL 1010 Die Cutter. This splicer is designed to unwind rolls and splice accurately on registration marks printed by the Koenig & Bauer press, minimizing print-to-cut waste at roll changes.
The choice of Martin Automatic ancillary equipment is significant. Prior to establishing IPP, Mr Kerisnan was Managing Director of MBF Printing and had first-hand experience of a Martin butt splicer working non-stop with an Aquaflex narrow web press, and another Martin with a Weber food packaging line. "I was impressed with the web tension that Martin equipment offered because it made for a very stable production platform. Their machines perform reliably, and the company provides excellent technical support whenever it's needed. To my mind, Martin makes the best automatic roll change systems on the market," he commented.
The Martins and the other new equipment installed in Klang have been set ambitious production targets by IPP, which is aiming for a 2019 turnover figure of $246m, on the way to IPP 4.0. Production is now carried out at three sites, where a workforce of 160 people processes 680 million pieces a year that are shipped to more than 20 international markets. "We have always had a commitment to being bigger, bolder and better, and our aim is to be the strategic global source for innovative and sustainable packaging solutions, with a one-stop facility for our customers," he added.
With a raft of international accreditations including BRC (AA), and FSC COC, as well a 'Green Rating' for Social Workplace Accountability, IPP also enjoys the acclamation of McDonald's Japan, whose Gold Ribbon it has just won for the fourth time - so it is not difficult to see why the company has great confidence in its future.