Martin Automatic introduces Airnertia(tm) technology to Labelexpo
Posted: October 16, 2019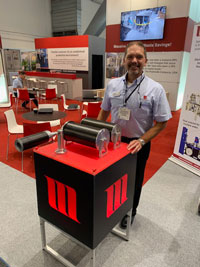 Gavin Rittmeyer, Vice President of Sales & Marketing, demonstrating Martin Automatic Airnertia roller technology for narrow webs
Leading US manufacturer and supplier of unwind/splice and rewind technology to the narrow web market, Martin Automatic, has introduced Airnertia roller technology to label converters at the Brussels expo. Originally developed for transporting wide web, low basis weight materials, Airnertia rollers utilise an ultra-thin carbon fibre shell riding on a cushion of air. Ideal for low tension and high-speed processes, this extremely low-inertia roller technology has found application in narrow web converting, specifically in intermittent motion processes that require the web to stop and start quickly.
Visitors to the Martin stand could compare the touch and feel of an Airnertia roller with a similarly sized traditonal roller, and then see them in action on the nearby RotoControl stand, where Managing Director Marco Aengenvoort was reporting a 60% increase in process speed with the two Airnertia rollers fitted to the company's DT340 Hybrid finishing line.
Aside from Airnertia, Martin reported a strong opening to the Brussels show, with visitors impressed with running demonstrations of the MBSF ('F' for film) automatic unwind butt splicer and LRD non-stop automatic transfer rewinder. The splicer on show was specially designed for a limited-headroom production environment. Capable of handling a variety of materials, including label stock and unsupported lightweight films, both units will be installed on a Gallus Labelmaster LM440 press at All4Labels Group after the expo.