Martin Automatic Booth, New Splicer Draws at Labelexpo America 2008
Posted: September 17, 2008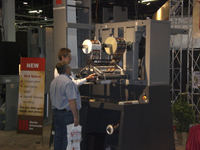 Craig Thomson, Marketing Manager for Martin Automatic Inc, demonstrates how easy splice prep is on the MLS splicer.
Martin Automatic Inc., the world's leading supplier of automatic roll changing technology, declared the recent Labelexpo event a success. The exposition featured the introduction of Martin's MLS splicer, a compact design ideal for mid-press laminating or for introducing additional webs into a non-stop process.
"We had high expectations for Labelexpo Americas and the steady stream of visitors to our stand ensured that we weren't disappointed," said David Wright, Vice President of Sales and Marketing for Martin Automatic Inc. "Interest was particularly high in our new MLS splicer for film laminates. A lot of North American converters laminate on press, and visitors to our booth recognized that the MLS, combined with other Martin automatic roll changers, gives them total non-stop productivity.
While the MLS was first publicly exhibited at the show, the unit has been generating waste savings and productivity improvements at a U.S. converter. Wright commented that the customer is enjoying significant scrap reduction, improved product quality and increased capacity as a result of installing an MLS splicer. The customer has just ordered MLS splicers for use on two more presses.
"Converters like this customer are looking even more closely at waste reduction, which is really what automatic roll changing is all about," Wright continued. "Martin was 'green' long before the recent emphasis on sustainability and waste. With automatic splicing, converters can cut their waste, save the landfill—and profit from the savings."