Label Technology Installs Third Martin Splicer
Posted: March 14, 2013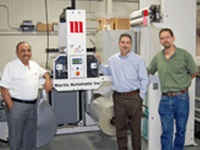 Albert Gabriel, David Bankson and Pat Hill of Label Technology, with the Martin Automatic MBSF butt splicer on a new MPS press.
Label Technology, Merced, CA, has installed a Martin butt splicer on a new MPS EXL660 flexible packaging press. The MBSF splicer matches the high productivity specifications of the 10-unit, 26-inch digital servo drive press, unwinding and splicing paper and unsupported films, including 48g PET, at speeds to 750 fpm.
David Bankson, President of Label Technology, says, "Martin butt splicers are an essential piece of equipment on our flexible packaging lines. They are extremely reliable, easy to operate and very robust. I have no doubt they will be delivering consistent performance for years to come."
The latest installation brings to three the number of Martin Automatic splicers in Label Technology's facility, with splicers running on Mark Andy and PCMC presses.