Martin Automatic brings a closet of success to Drupa
Posted: June 20, 2012
Martin Automatic featured three machines on their stand: a high-speed, ultra-low-tension festoon and dancer, 130" heat seal butt splicer (shown behind photo cubes) and an MBSC compact butt splicer.
(Rockford IL) Martin Automatic premiered a splice sample closet on their stand at Drupa 2012 . Visitors to the stand were able to see an impressive range of substrates that the company has handled in its unwinding, rewinding and tension control equipment. "Today people want equipment that can run soup to nuts, as we say in America. They want to know that their equipment can handle not only what they are running today, but also what they might run several years from today," reports Gavin Rittmeyer, Vice President of Sales and Marketing for Martin Automatic. Samples included taped butt and overlap splices on paper and film substrates, heatseal butt and overlap splices on nonwoven webs, and even hotmelt adhesive splices on fiberglass. The wide spectrum of materials and splices clearly surprised several attendees.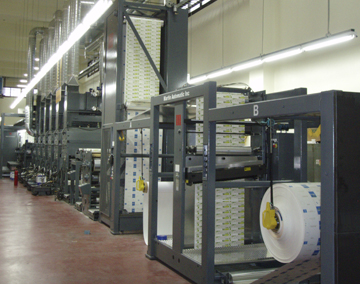 The splice sample closet was a welcomed addition to the Martin stand for Drupa 2012.
At the Martin stand, visitors were also able to see a 130" wide heat seal butt splice system. The 130" unit demonstrated heat seal butt splices on nonwoven material. Butt splicing demonstrations were shown on Martin's newest compact butt splicer, the MBSC. The company also featured a high-speed, ultra-low-tension festoon and dancer on their stand.
Martin Automatic had visitors from 29 different countries stop by their booth and subsequently received many good leads. Additionally, Martin equipment impressed visitors on the Berhalter and Labelmen stands. Berhalter AG introduced its REELSplicer die-cutting system with Martin butt splice unit and accumulator/festoon for non-stop operation. Labelmen Machinery Co, Ltd demonstrated Martin Automatic non-stop splicers and transfer rewinds on two separate press lines.