Martin Helps Taiyo Kikai Run Non-Stop at All in Print China
Posted: January 03, 2012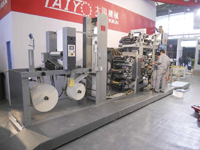 Technicians at the Taiyo Kikai stand at the All in Print China exhibition ready a new CI press with Martin Automatic roll changers.
Visitors to the Taiyo Kikai stand at the recently concluded All in Print China show in Beijing saw new Taiyo presses running continuously with Martin Automatic splicers and rewinds.
A Taiyo central impression (CI) cylinder letterpress featured a Martin MBSC butt splicer and STR turret rewind. Martin also supplied a model MBS butt splicer and LRD transfer rewind on a new Taiyo offset press.
Mr. Gavin Rittmeyer, Vice President of Sales and Marketing for Martin Automatic Inc, complimented Mr. He-Liang Qi, General Manager of Shanghai Xinmin Taiyo Kikai Co, on the successful exhibition, observing that both lines showed well and attracted much attention from visitors. "Taiyo is quite forward thinking to market fully automated presses to their customers. This reflects Taiyo's commitment to consider all aspects of a customer's needs, including their needs for reducing down time, eliminating waste and ensuring maximum productivity. By including Martin Automatic roll changers, Taiyo is helping customers optimize their return on investment in a press line and maintain an aggressive business model."