Martin Automatic Completes Unique Installation with Nilpeter
Posted: September 16, 2011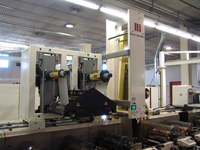 The Martin Automatic MLS fitted to the overhead rail system of a Nilpeter FA4 at Graficas Varias was the first installation of its type. It has no effect on print speed of accuracy and saves 25 - 50 meters of substrate per roll change.
Gráficas Varias, located deep in the heart of Cava country, in Spain's Catalonia region, produces more than 650 million labels year for the liquor trade, supporting the 140 Cava Houses in the local area alone, whose annual production output ranges from 200 to 240 million bottles. This is wine label production on a serious scale, and it all began back in 1918 with the company printing stationery and later books on letterpress machines.
The Cava market began to grow in the 1930s and 40s, and the company elected to specialize in labels for the business, which until 1976 were printed letterpress. With the advent of offset litho, in the form of Heidelberg presses, the company grew steadily in the wet glue market until, in 1988, it installed its first narrow web press, a Gallus Q33, followed closely by a Kopack 250, and the tide was turned towards self-adhesive labels, which today account for around 70% of the company's business by value.
The present Managing Director, Josep Varias Ribot, grandson of the founder, and President Elect of the Spanish Label Federation, explained the development of his family company. "We still focus on the wine and liquor trade, with Spain and southern France as local regional markets, and France for Cointreau, Russia for Vodka, and Cuba for Rum, providing useful growth potential. Other business comes from wrapped chocolate labels that are sheeted for wet glue application, and also booklets. We produce these on our 12-colour Kopack 400 line."
Subsequent press investments saw the first waterless Codimag installed in Spain, followed by a Nilpeter B3000 and a second Codimag. Most recently, attention has switched to flexo and the first of two 8-colour Nilpeter FA4 lines was installed in 2006, with the second, identically specified 420mm press in 2008. Both include two-position hot and cold foil capability, rotary embossing, a moveable screen printing capacity, die cutting, and the facility to over-laminate.
The Nilpeter presses immediately attracted longer run work, taking us for the first time into millions of labels, but they also posed a problem – that of waste management, which on the type of substrate we use can be very costly," explained Josep Varias. In addition, over-laminating was a new technique for the company, with further potential for expensive waste. "We knew we had to run non-stop to maximize the productivity of the presses, but needed a system that would cope with laminating and foiling," he added.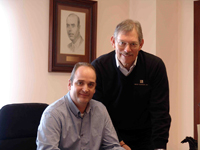 Josep Varias Ribot signs the order for a second Martin package of MBSF, MLS and LRD equipment with the manufacturer's European Sales Manager, Edward Pittman.
After investigating the options, the company made its choice based on the experience of an existing user, and signed a purchase order with Martin Automatic at Labelexpo 2009 in Brussels. The package of equipment consisted of an MBSF (F for Film) automatic unwind/butt splicer, an MLS automatic lap splicer, and an LRD automatic turret rewinder. However, the choosing and order:if expand("%") == ""|browse confirm w|else|confirm w|endif ing of the Martin equipment proved to be the easy part.
The installation was pioneering in that an MLS unit had never before been mounted on the Nilpeter overhead rail system, and it took careful negotiation and close cooperation by the two engineering departments to ensure that all machine tolerances were not exceeded. To prove the integrity of the calculations, the Martin MLS unit was installed in sections. At each stage, print tests were carried out and measurements taken of any press deflection caused by overloading of the rails. There were none, not even when the roll loading took place, with the spindles extended to overhang the rails.
The result was a triumph for the Martin engineers, whose calculations that the MLS would not de-stabilize the Nilpeter proved well founded. "Even when using full rolls at maximum leverage, there is no drop in press speed nor print quality, and crucially, the Martin system has reduced wastage by 25 – 50 meters per roll on substrate costing €1/sqm," commented Varias. Non-stop operation gives more consistent quality labels, and with lower wastage, more labels of saleable quality on the production floor.
Run lengths at Gráficas Varias range from 5,000 to 5 million, with 50,000 as a typical job size on the Nilpeter FA4s. According to the company, a 1 million run would require around 30 roll changes, so on an investment close to €300,000, Josep Varias sees a pay-back period of
three to four years on double shift working. "I base this calculation purely on the reduced material wastage on-press – it excludes saved production time and the downstream savings enjoyed on processes like inspection and rewinding, which would add significantly to the benefits, and improve the ROI still further," he added.
The Martin MLS at Gráficas Varias is only the second to be installed in Europe. On complex jobs it runs at 30 – 40 m/min, so roll changes are infrequent, but the substrate being used is very expensive, according to Varias. "We shall continue to focus on the wine and liquor business as our plant is purposely equipped to produce the high quality, value added labels that this market demands. We installed an HP-Indigo line in 2007, and we see narrow web as the future," he concluded.
Today, the company employs 90 staff in a 5,400 sqm plant in the Poligano Industrial area 'Can Ferré' and enjoys annual sales in excess of €8.7m. Turnover has increased by 7.5% in the last year and the target is 9% for 2011, a benefit drawn from the establishment of a Sales Department in 2009.
With ambitious plans for growth, Gráficas Varias confirms it has placed an order with Martin Automatic for an identical three-unit package of equipment for its second Nilpeter press. According to Josep Varias: "The first installation made such a convincing case for itself that it was best commercial practice to invest in the same technology for the new press." The new MBSF, MLS and LRD units are due to be installed in the Summer.