New Splicers For Envelope Lines
Posted: May 01, 2007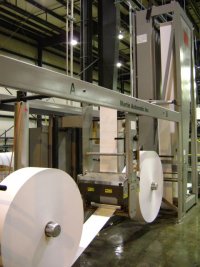 Martin Automatic MBE butt splicer recently installed on envelope line
(ROCKFORD, IL) - Martin Automatic Inc announces installations of new zero-speed automatic splicers for envelope presses.
The MBE automatic butt splicer (and MBE-IR for in-register splicing of preprinted rolls) was introduced to the envelope market in 2005. In less than 2 years, Martin has installed 8 of these high-performance splicers on envelope presses. Previous installations included existing W+D and F.L. Smithe lines.
Most recently, a major North American envelope converter started up an MBE-IR automatic butt splicer on a new W+D envelope line.
Unlike overlapping splices that increase the potential for jam-ups, the MBE makes non-overlapping butt splices. It features Martin's patented, built-in roll handling system to lift rolls up to 1600 lbs (725 kgs) from the aisle, without the need for auxiliary roll loading equipment. Martin equips the MBE with an inertia compensated filter dancer. The inertia compensated dancer provides superior tension accuracy for less waste and higher quality printing. A splice positioning system enables the MBE to make transfers so splices are accurately positioned for downstream processing or in relation to a cutter.
In addition to the MBE, Martin offers a small butt splicer for window patch stock and other value-added insertions in envelope lines.