Vuye Boosts Productivity on Flexible Packaging with Martin Automatic
Posted: May 09, 2010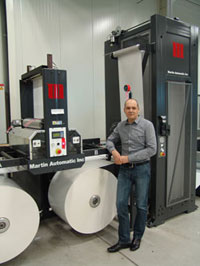 Lieven Vuye says his Martin MBS and LRD units offer him the flexibility to be competitive on run lengths that would otherwise be too short to be profitable.
Vuye Flexible Packaging (a division of Drukkerij Vuye) has installed Martin Automatic unwind and rewind units on its second Drent Goebel VSOP narrow web press at its new facility in Oudenaarde, Belgium, "to add flexibility and improve production efficiency," according to General Manager, Lieven Vuye. The result is a production line that regularly operates close to its maximum rated 400m/min top speed, and makes Vuye's typical run lengths of 20,000 metres extremely cost effective to produce.
The 520mm VSOP press is in seven-unit configuration with intermediate drying between units 5 and 6 to allow reverse side printing. A flexo unit is fitted for water base or UV varnish, and crucial to the decision to install the VSOP was "its variable repeat length capability, sleeve technology, and offset print quality," according to Mr Vuye, whose first VSOP was one of the early presses off the line back in 2005.
"We have a pioneering philosophy here at Vuye and when I looked closely at the market for new technology to invest in, the VSOP had no competition. Any teething troubles with the press were outweighed by the flexibility it allowed us to offer our customers - I estimate it gives us three times the capacity of a fixed size machine," he added, pointing out that a close cooperation between manufacturer and user was responsible for many of the software developments that are now standard fitting on the latest press.
The decision to expand capacity beyond the company's traditional sheet fed business began in 2004. Deciding that the next phase of investment needed to move the company away from the highly competitive and fragile commercial market, Mr Vuye cast his eye at print for packaging, and in particular in-mould labels (IML). With years of offset knowhow in-house, he discounted the wide range of flexo presses available for this type of work.
"I chose IML because I had heard that it was difficult to do, and I enjoy a challenge! In fact, our production has polarised to filmic labels, pouches, shrink sleeves and 'Flowpacks', using OPP, PET, and PVC substrates," he explained.
Vuye Flexible Packaging is essentially a start up venture, attracting no crossover business from its commercial print customers. It specialises in short to medium run work, where it offers fast turnaround on orders and a high level of personal service. "Flexibility is our USP because we are a small operator in the market. To maximise the effectiveness of our production cycle we needed to automate as much as possible and that is why we fitted Martin equipment," explained Mr Vuye.
"Our customers demand the quality of gravure printing but do not have the high volume needed to defray the expensive set up costs of these presses." By fitting an MBS automatic unwind and splicing unit, and LRD automatic rewinder, Vuye can operate profitably on runs as short as 500 metres. "When combined with offset print quality, this makes us ideal for test market work and sampling, or for products where frequent type changes are required," he added.
Since installing the Martin equipment, Vuye claims to have seen the dramatic fall in set up times and material waste that allow such short run work to be profitable. The substrate is delivered in giant rolls of 520 mm widths for loading into the MBS splicer. By removing the need to stop the press for roll changes, Vuye has removed one variable in the quality equation and reduced overall production time.
In addition to improving the press' performance, Mr Vuye says the Martin equipment has also improved the efficiency of his operatives, who rate the reliability of the Martin automation very highly. One added bonus that has derived indirectly from fitting the Martin equipment is customer loyalty, according to Mr Vuye. "It is a quality issue - both in terms of product and service - we would not want to be without the Martin equipment now, and would make it part of any future press investment."
Vuye Flexible Packaging currently employs 12 staff and operates from a new 5,000 square metre production facility on a plot twice that size. Working a double shift pattern, the company has set 25% as the annual growth target for 2010, a figure Mr Vuye is confident of achieving on runs lengths from 500 - 250,000 metres.