Martin Automatic's David Wright Retires After 31-Year Career
Posted: October 31, 2009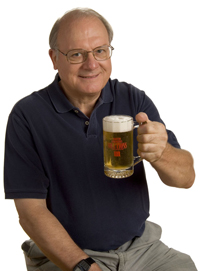 David Wright toasts to his retirement.
(ROCKFORD, IL USA) - Martin Automatic Inc announces the retirement of David A. Wright at the end of October.
Wright joined Martin Automatic in 1978 and served as Vice President of Sales and Marketing. An engineer by training, he helped develop and refine a number of Martin's web handling and roll-changing products. He was also responsible for expanding Martin's presence globally, establishing sales and service offices in Europe and Asia.
Roger Cederholm, President of Martin Automatic, said, "I have had the privilege of working with David Wright for more than 30 years. His contributions to this company and to the industry are deeply appreciated. We wish him a long, healthy and enjoyable retirement."
Among his activities in the printing industry, Wright served on the board of NPES, The Association for Suppliers of Printing, Publishing and Converting Technologies, including two terms as Chairman of the NPES International Trade Committee.
Wright graduated from the University of Wales, Swansea, with a B.Sc. in Mechanical Engineering, and a post-graduate diploma in Printing Technology from the London School of Printing. Prior to joining Martin, he spent 12 years with Baker Perkins (Peterborough, England) Printing Machinery Division in various sales, service engineering and manufacturing capacities, including manager of the engineering department.
A native of England, Wright took his United States citizenship in 2004. He and his wife, Fleur, will make their retirement home in Santa Fe, New Mexico.