Labelexpo Asia to feature impressive Martin Automatic Splicer and Rewinder
Posted: September 21, 2009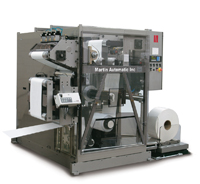 Martin Automatic's LRD rewinder will be shown at the Martin booth, C33
(ROCKFORD, IL USA) - Martin Automatic Inc will exhibit non-stop roll changing technology at Labelexpo Asia 2009, to be held 1-4 December in Shanghai. Visitors to Martin's booth C33 will see live demonstrations of an MBS automatic butt splicer and LRD automatic transfer rewinder. Automatic roll changing reduces material waste and increases throughput for label and narrow web printers. According to David Ho, Manager of Martin Automatic Asia-Pacific, "In these challenging economic times, many successful printers are investing in automation equipment from Martin. They understand that cutting cost and increasing productivity is a sure way to improve their competitiveness." David Ho says, "The MBS/LRD splicer/rewinder combination is consistently one of Martin's most popular products. We are very excited that this is the first time we have shown this impressive splicer and rewinder in Asia."
Martin Automatic's MBS butt splicer will be shown at the Martin booth, C33
After the exhibition, the splicer and rewinder on display will go into production at a label printer in China. With more than 8,000 installations in over 50 countries, Martin Automatic is a global leader in high-performance splicers and rewinds. For more information contact David Ho at Martin Automatic Asia-Pacific.