Martin Automatic premieres new compact splicer at Labelexpo Americas
Posted: September 09, 2008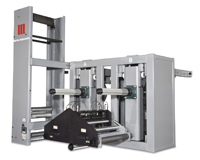 The MLS splice unit is designed to mount above narrow web presses.
The Martin MLS Automatic Splicer is a compact lap splicer for non-stop unwinding at full press speed. Its compact design makes it ideal as a mid-press splicer mounted either in-line above printing units or at right angles. The MLS splicer is well suited for laminating and foiling applications. When combined with other Martin Automatic splicing and rewinding equipment, the MLS offers printers the increase productivity and reduced waste that results from production that is uninterrupted by manual roll changes.
Design features of the MLS include:
Space-saving design. The MLS can be fitted above the running web of many narrow web presses, without adding length to the line.

Pull-out spindles and splice unit. Each unwind position includes a spindle and half of the splice unit. The operator loads rolls and prepares splices from an ergonomic location in the aisle, then returns the spindle and splice unit to its running position.

Automatic splice initiation. The MLS monitors the diameter of the running roll and automatically makes a roll change at a pre-set diameter.

Inertia compensated tension control. The festoon features Martin's inertia compensation technology that ensures the consistent, accurate web tension that is particularly critical in laminating applications.
"In responding to numerous requests for a mid press splicer that can be mounted above printing units, we feel that with the MLS we have an ergonomic solution that operators will find particularly user friendly." reports David Wright, Vice President of Sales and Marketing. "The accurate tension control will be appreciated in laminating applications."