Martin Automatic Celebrates Forty Years
Posted: December 01, 2007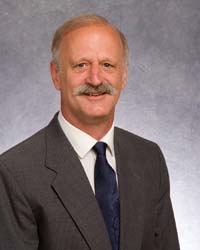 Roger Cederholm - President of Martin Automatic Inc.
An Interview with Roger Cederholm, President of Martin Automatic Inc
Q: I understand that Martin is coming up on another anniversary?
A: That's right.We're about to finish our 40th year.
Q: How did Martin Automatic get started?
A: Two brothers, John Martin, a creative engineer and Dick Martin, an aggressive salesman were unhappy with what they were doing. John and Dick put their ideas together in 1968 and Martin Automatic was born. One of their first products, a patented web guide, was the first on the market that had what they called "web-plane changing sensors," which allowed higher frequency response with greater accuracy.
Q: Since those early days how has Martin grown?
A: We originally started with two plants (2 garages) and have grown to almost 200,000 square feet.What really brought us to the next level was in 1983 when the converting industry started using our technology to solve the splicing, registration and lamination problems that they had been living with for years.We have been able to continue this growth to what I believe is the largest splicer and rewind company in the world.
Q: What is the core design philosophy at Martin?
A: Simple solutions to complex problems. This philosophy was fostered by John Martin's intense desire to make things as simple as possible.The most elegant solution produces sophisticated functions with the fewest parts.This philosophy requires getting to the root cause of the problem.
This has become a part of the company's design policy, and it guides all product development. As a result, Martin machines are easy to operate, incredibly robust and extremely reliable.
Q: I understand that most of your employees have been with Martin for some time.What would you say is the average tenure?
A: The average length of service is around 17 years. I started in 1973, so that puts me at 34 years. David Wright, our Vice President of Sales and Marketing, has been with the company for 25 years, and the list goes on. Our retained knowledge is definitely an asset, but we value imagination of our people even more. We're not a "me too" company. That's why Martin Automatic remains the industry leader and innovator. We seek out people who like to think outside the box, then we encourage them to think! We apply our collective knowledge with imagination to come up with the most elegant, simple solutions.
Q: Speaking of corporate cultures what really sets Martin apart from other companies?
A: We hire intelligent, responsible individuals, who are self starters and give them the latitude to be creative with their problem solving. We've had a casual atmosphere long before it became a business trend, which we believe has helped facilitate creative thinking.
Q: I've been told that Martin has beer on tap in their break area. Is that true?
A: Yes, everybody seems to remember that! John Martin came up with the idea years ago to encourage dialogue among the various departments. People, who would not normally talk to each other during the day, may take a few minutes after work to get together and have a beer. In this informal setting, they exchange ideas and information, which may not happen any other way. We have actually developed machines sitting around the beer cooler with customers.
Q: So what's in store for Martin Automatic in the future?
A: We're manufacturers and problem solvers. Our intent is not to get caught up in selling for the sake of selling, but to continue helping our customers improve their productivity and quality. We've done business that way for the last forty years, and we believe it's smart business for the future. And of course, we're going to continue to "keep it simple."