MBE Butt Splicer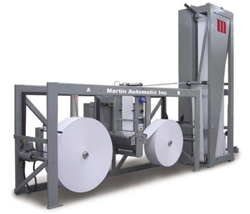 Click here to Enlarge
Overview:
The MBE is engineered to meet the demanding production requirements of envelope converting, combining high-performance with rugged reliability and feature flexibility. Design features of the MBE include:
Reliable rolling shear splice unit.

This patented butt splice unit simultaneously severs the web and irons tape across the splice, producing a tight bond. The precision shear wheel and anvil mechanism guarantees a clean cut and no overlap.

Lift-and-load.

A patented, built-in roll handling system lifts rolls from the aisle, without the need for auxiliary roll loading equipment.

Automatic sidelay.

This feature maintains the alignment of the running web to the prepared web in the splice unit. A sensor monitors the position of the running web, and the automatic sidelay system compensates to insure that the webs are aligned at the time of a splice.

Easy core chucking.

The MBE uses switch-actuated pneumatic spindles, with adapters for alternate core diameters.

Automatic splice initiation.

The MBE monitors the diameter of the running roll and automatically makes a roll change at a pre-set diameter.

Inertia compensated tension control.

The festoon features Martin's inertia compensation technology for consistent, accurate tensioning of the web as it enters the process. Optional isolation filter dancer provides infeed tension accuracy.

Splice positioning system.

This feature enables the MBE to make transfers so splices are accurately positioned for downstream processing or in relation to a cutter.
Specifications:
**
| | | |
| --- | --- | --- |
| Maximum Splicing Speed | to 1500 FPM | to 457 MPM |
| Maximum Web Width | to 26 IN | to 660 MM |
| Maximum Roll Diameter | to 60 IN | to 1524 MM |
** Specifications for the Martin MBE Butt Splicer are meant as a general guideline. The Martin MBE Butt Splicer can be application-engineered to fit each process. Contact Martin Automatic for your specific needs.
Features:
Patented lift-and-load roll loading

Capacity for two full-diameter rolls at any time

Bi-directional unwind capability

Splice positioning system for placing splices within downstream target area

Switch-actuated pneumatic spindles

Reliable, patented rolling shear splice unit for clean cut-off and tight splices

Automatic roll sidelay

Martin inertia-compensated tension control system
Optional Features:
Splice unit and spindle diagnostic package

Integrated isolation filter dancer

In-register splicing for pre-printed or pre-processed webs

Automatic proportional drag bar decurler
Requirements:
| | | |
| --- | --- | --- |
| Pneumatic | to 80 PSI | to 5 ATM |
| Electrical | Single phase (non accelerated machines) Three phase for motor accelerated machines. | |
Downloads:
As with all Martin products, the Martin MBE Butt Splicer can be application-engineered to fit each process. Contact Martin Automatic for your specific needs.