MBX Butt Splicer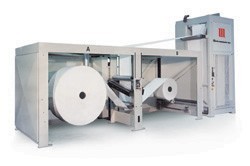 Click here to Enlarge
Overview:
Narrow-web printers and converters relying on the economies of scale offered by larger roll diameters and machines capable of running a variety of web material from non-extensible film to paperboard rely on Martin butt splicers to meet their needs.
Martin Automatic offers narrow web printers and converters the full-featured, economical MBX or XL Automatic Butt Splicer. The addition of the MBX line completes the already popular Martin family of narrow to mid-web cantilevered butt splicers that have become the industry benchmark for versatility and reliability.
The integral, patented lift and load system supports two full rolls up to 72 inch diameter and 2500 pounds and features in-aisle roll loading - eliminating the need for auxiliary roll loading equipment. Side-entry loading reduces machine direction floor space required by end loading turrets.
Design simplicity, PLC-based control systems and patented features allow for a variety of option packages and diagnostic functions on this flexible machine. Martin's patented sheer wheel/anvil cut off system simultaneously severs the web and irons tape across the splice, giving superior splice bonding and positive control of the web at all times. Second side splice taping along with the angled splice ensures splice integrity even under the most demanding die cutting designs.
Automatic splice initiation systems available on the MBX include "tailgrabbing," which initiates the splice as material begins to separate from the core, or electronic roll diameter calculation, which initiates the splice based on pre-set roll diameter. Both systems feature manual pushbutton override for operator-initiated splices.
Continuous production feed, flexible platforms, splicing reliability, and operator convenience are among the reasons to consider the Martin MBX line of splicers. Evaluate one today and find out what increased operator satisfaction and a fast return on investment will mean to your bottom line.
Specifications:
**
| | | |
| --- | --- | --- |
| Maximum Splicing Speed | to 1200 FPM | to 366 MPM |
| Maximum Web Width | to 33 IN | to 838 MM |
| Maximum Roll Diameter | to 72 IN | to 1829 MM |
** Specifications for the Martin MBX Butt Splicer are meant as a general guideline. The Martin MBX Butt Splicer can be application-engineered to fit each process. Contact Martin Automatic for your specific needs.
Features:
Adjustable running web tension

Integrated pneumatic loading

Bi-directional unwind capability

Automatic roll sidelay

Automatic splice initiation

Angled butt splice, taped both sides

Precision tape dispensers

Inertia Compensated Festoon

Patented lift-and-load system with pneumatic spindles
Optional Features:
Capacity to carry two full rolls simultaneously

Festoon and Accelerator packages to match process speeds

Soft tension control package for film webs

Explosion-proof provisions

Splice unit and spindle diagnostic package

Custom rollers for specific material requirements

Transparent web sensing provisions

Dual unwind capability with two-web tension control
Requirements:
| | | |
| --- | --- | --- |
| Electrical | Single Phase (non-accelerated machines) Three Phase (motor accelerated machines) | |
| Pneumatic | to 80 PSI | to 5 ATM |
Downloads:
As with all Martin products, the Martin MBX Butt Splicer can be application-engineered to fit each process. Contact Martin Automatic for your specific needs.