Martin Automatic maximises press productivity for LariTryck
Posted: January 20, 2015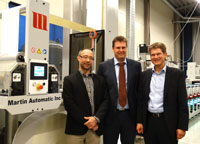 LariTryck's owner Johan Ripa is seen here with Joakim Marcusson of Convertec (left) and Bernd Schopferer of Martin Automatic Europe (right).
With lean manufacturing high on the list of priorities for business growth, one label converter in Sweden has invested in roll changing automation to maximise the efficiency of its two new flexo presses. Nick Coombes reports from Bjuv.
LariTryck AB is one of Sweden's fastest growing label converters. Founded in 1977 as a label broker, it moved into flexo printing in 1995, and today has five Mark Andy lines and a staff of 30 people working at its plant near Helsingborg on Sweden's west coast. Currently specialising in paper-based substrates, company owner Johan Ripa, wants to develop the filmic side of the business with wraparounds and shrink sleeves, and expand his markets beyond Scandinavia.
Crucial to the success of this plan is the recent installation of two new flexo presses. Both are multi-colour Mark Andy P7 lines, with a 430mm web width, and in the case of the 10-colour machine, the manufacturer's 'film package' that includes chill rolls and low friction idlers. To be successful in these new markets, Ripa knows he has to maximise on efficiency to keep production costs as low as possible, and this resulted in him adding AB Graphic slitting and rewinding technology inline to produce finished rolls on the press.
"Our aim is to run non-stop," he said, "which means automatic roll splicing. In my view, Martin Automatic sets the industry standard for this technology - it's almost the generic term for butt splicing, so we had no hesitation in specifying an MBS unit for each of the new Mark Andy lines." The MBS splicers were supplied by Martin Automatic's distributor in Scandinavia, Convertec AB, for whom Sales Director Joakim Marcusson commented: "LariTryck is a long established customer of ours to whom we have sold many different machines over a period of years. The combination of new Mark Andy P7 presses with automatic roll changing is a natural progression towards the Lean Manufacturing that Johan Ripa wants to achieve."
By installing the two presses face-to-face, LariTryck has enabled one operator to work both lines. This has increased the need for reliable automation. "The key to reliability with Martin technology is its simplicity - neither machine has missed a splice since they were installed," said Ripa, adding "No matter what substrate we run, the Martins handle it with ease - in fact I'd say they are probably the best investment I've ever made! " The 430mm web width is seen as a major sales advantage in the markets that LariTryck is looking to hit. The type of products that can now be manufactured will move the company towards flexible packaging, where run lengths are longer and format sizes generally larger than those for self-adhesive labels. To develop these new markets, Ripa has appointed Roger Wilén as his new Sales Manager. Well known and highly respected in the Scandinavian package print market, Wilén's brief is to employ a degree of lateral thinking to stretch the capability of the new printing presses.
With the household and personal care product markets to approach with clear-on-clear labels, the future for LariTryck looks positive. Johan Ripa has big ambitions for the company, and is looking to push into the top three of narrow web converters in Sweden. To achieve this as a privately owned family business would be a major success, but the recent investment programme, which topped out at €2.3m, suggests that things are going to plan. Speaking for Martin Automatic, Bernd Schopferer concluded: "Today's highly productive presses can only perform to their best ability if they are matched with automation that allows rapid job changes and minimises material waste. LariTryck's investment in Martin MBS splicers is one of the keys to its future success, and we are delighted to be involved."