Martin Automatic Helps Thai Cup Producer Run New Press 24/7
Posted: April 03, 2014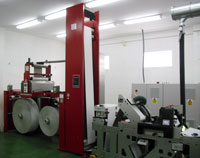 Martin MBS splicer provides continuous roll feed to new Edale press at Aksorn Art Paper Cup.
Aksorn Art Paper Cup and Packaging Company, based in Samutsakorn, Thailand, has installed an automatic roll changer by Martin Automatic on its new Edale FL-5 flexo carton press. The high performance Martin MBS automatic butt splicer provides non-stop roll feed to the press, enabling Aksorn to print products like instant noodle cups at high volume and quick turnaround to meet the increasing demand for its cups. Typical rolls are 3200 lineal meters of 270 gsm paperboard, running at an average press speed of 150 mpm, on a 24/7 basis.
The 430mm wide press can print up to 600 micron cartonboard on its 8 units, with twin servo drives on each print station, combination infrared drying and UV curing, shingled delivery table and a range of other options.