PaperWorks Packaging Group Builds on Integration and Diversity
Posted: August 14, 2013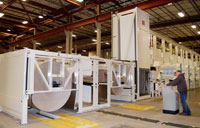 Martin Automatic's MCBWW splicer feeds PaperWorks' new 10-color Gallus Flexo Press at speeds exceeding 1,000 FPM
The Specialized Packaging Group (SPG), founded in 1983, had a driving focus-to do things differently and creatively. This led to many innovative processes and capabilities that would define SPG for the next two decades. In 2009, the Specialized Packaging Group merged with PaperWorks Industries, Inc., turning the paperboard manufacturer into an integrated full-service packaging provider headquartered in Philadelphia, Pennsylvania. SPG thus became the foundation for one of PaperWorks' two divisions, the PaperWorks Packaging Group. Less than two years later, the Packaging Group would also acquire the Rosmar Packaging Corporation, bringing its five facilities and 750 employees into the PaperWorks family.
Vertically integrated with the Paperboard Group (consisting of their Philadelphia Mill, Wabash Mill and the many converting facilities of Manchester Industries), the PaperWorks Packaging Group is positioned to be a powerhouse in the packaging industry. PaperWorks as a whole has enjoyed aggressive growth and continues to redefine itself through highly diversified capabilities and a commitment to service and quality.
One might expect that some of SPG's creativity and drive would have been lost in its merger into a much larger entity. Fortunately, the PaperWorks Packaging Group doesn't work that way. The SPG spirit of innovation and its drive to rethink the carton are alive and well, and permeate the corporate culture of this relatively new company. This is evidenced by the formation of the PaperWorks Packaging Group Design and Innovation department (PDI).
As Don Gray, Director of Technical Services and General Manager of PaperWorks' Baldwinsville operation explains, the PDI is "a product development task force that works on both our paperboard and packaging systems. Their mission is to explore new technologies and innovations that could become the next 'new thing' to add value to the packages we produce. We spend hundreds of thousands of dollars on trial time and machine time annually in the quest to create something new-something that doesn't even exist today. Even an add-value that's very subtle can create a new niche for us and we're committed to that kind of innovation."
The accumulated knowledge at PaperWorks Packaging is both wide and deep: experience that allows the company to continually optimize its operations and capabilities. Speaking about the purchase and installation of a new 10-color 48- inch Gallus Flexo press, Gray said "this new press will take us into new markets. We're really excited about the added capabilities that it will deliver. Instead of producing on multiple pieces of equipment, we'll be able to consolidate much of that work onto one piece of equipment and do it at speeds exceeding 1,000 FPM."
To get maximum performance out of their new Gallus press, PaperWorks selected Martin Automatic for their automatic roll change splicer and rewind technology. "We have Martin Automatic equipment on virtually all our roll-fed presses. They have a proven technology that is very robust. That's exactly what you need when you're automatically changing 84-inch rolls that weigh 7,500 lbs at web speeds exceeding 1,000 FPM. The Martin installation is impressive-the butt splicer required a 28-foot-high festoon to provide a continuous feed to our new Gallus press. We also added a Martin lap splicer installed at 90 degrees to the press to feed laminate film and provide additional capabilities inline," Gray notes.
Another example of PaperWorks applying new add-value technologies is the Cast & Cure C2 process at their Greensboro, North Carolina plant. Developed in China and marketed in the US by Breit Technologies, the C2 process applies a spot film lamination, giving a holographic-like pattern to cartons and providing high-profile accent decoration.
Here is how it works-a film web is embossed with a pattern and supplied on a roll. PaperWorks lays down a UV-curable coating on the substrate and the pattern film is nipped to the substrate, creating a laminate of substrate, coating, and film. The laminate structure passes under a UV lamp to set the coating and then the film is lifted off the substrate, leaving its pattern in the cured coating. The embossed pattern film is then rewound and reused multiple times.
Telstar provided the C2 module, which was mounted on a mezzanine above a narrow web ZigZag press. While this configuration worked well, manual roll changes were labor intensive and time consuming. A roll change took about 15 minutes, and the work had to be done at the mezzanine level above the press.
In order to make this process attractive to brand managers, the C2 process had to be more efficient and affordable. Martin Automatic installed a low-tension butt splicer and rewinder on the ground level and ran the film web up to the C2 module on the mezzanine. This provided a safer and more efficient non-stop production environment that reduced both production time and film waste. The net result was an affordable innovation that added unique value to carton presentation.
"We're using the C2 spot lamination process on oral-care cartons," Gray clarified. "Because they're smaller in size, graphics play a big role in helping the brand stand out on the shelf. C2 spot lamination adds a lot of excitement to the presentation and helps get the carton noticed. We run a lot of SKUs-some are short runs and others can be 500,000 units or up into the millions. We're one of the first to offer the Cast & Cure process and I'm pleased to say it has brought us some important new customers."
For the past three years, PaperWorks has also focused on developing more in-line capabilities with flexo because the process provides more versatility, greater consistency and a high-quality finished product for less cost. While the purchase of a new Gallus flexo press underscores the importance of flexo in their operations, PaperWorks remains committed to process diversity.
PaperWorks offers everything from gravure to sheet-fed offset to flexo for package decoration and converting. They are truly a one-stop-shop that can address virtually any aspect of the package printing industry. Mark Roy, Executive Vice President of the Paperboard Group, explains: "We're doing it all-whether it's consumer goods, pharmaceuticals or beverages, we really have a well-rounded portfolio. Our customers like the fact that we have this level of diversification because we're able to offer them a lot more options."
The future for the PaperWorks Packaging Group is looking bright. Their growth has been explosive and their customers obviously appreciate their diversity and creativity. Across PaperWorks' 17 facilities, there's a shared spirit of innovation and entrepreneurship that encourages its members to rethink, adapt, and constantly improve. PaperWorks will pursue methodical and well-managed expansion and growth, but don't be surprised when you see their name attached to the "next new thing" in full-service packaging.