Roll Change Automation Makes Tobacco Packaging Company Efficient
Posted: June 07, 2012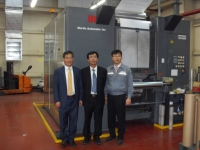 With the help of Phil-Tech International, Samsung selected Martin Automatic model RMAP rewinders on 3 gravure press lines for continuous roll-to-roll printing. Pictured: Mr. Jae-Guk Han, CEO (center) and Mr. Je-Il Lee, Director (right) of Samsung Gumbak Card Line, and Mr. C. B. Park, Phil-Tech International (left)
Samsung Gumbak Card Line Co., Ltd. was founded 40 years ago by Mr. Han Jae-Guk. The Seoul printing company began with hot stamping on name cards and expanded its' business field to printing wedding invitations, Christmas cards & New Year's cards. The company has grown to its present size of 180 employees, and its printing and decorating facility operates around the clock, 6 days a week. Sales revenue grew by more than 12% in 2011, and near double-digit growth is projected for 2012, to more than USD$ 35 million.
In 1997, Mr. Han took Samsung into printing for tobacco packaging-cigarette boxes and wrapping papers-a niche that has become the company's primary business. Among Samsung's major customers is KT&G (formerly known as Korea Tobacco & Ginseng), a public corporation with the exclusive right to manufacture cigarettes in Korea. KT&G owns over 70% of the domestic Korean cigarette market and has expanded to southeast and central Asia, China, and the Americas, primarily with its flagship Esse and Carnival brands. And in 2011, KT&G inked significant deals to distribute its cigarettes to Russia, Eastern Europe and the Middle East.
As one of 3 subcontractors who supply cigarette boxes & wrapping papers to KT&G, Samsung is proud that its products have been rated the best quality. Mr. Han credits the company's top rating, as well as its overall growth and success, on several key factors:
Unceasing efforts in quality improvement
Dedication to meeting customer requirements through product development and expanded printing and decorating methods
Commitment to developing and rewarding employees through technical skills training and qualification
Investment in better & new technology
The equipment list at Samsung includes one 11-color Cerutti and three 8-color Bobst rotogravure presses, 3 Heidelberg sheetfed offset presses, as well as sheetfed and webfed hot foil stamping machines. An important element in Samsung's success in tobacco packaging is the decision to equip several of its gravure press lines with non-stop roll splicing and rewinding systems from Martin Automatic.
A recent trend observed in packaging printing, especially in Asia, is toward roll-to-roll printing on press, with more offline decorating and finishing. Samsung's existing Bobst presses ran into diecutters. The addition of new rewinders was required in order to provide printed rolls to their offline hot stamping process. After researching the available technology with the help of Mr. C. B. Park of Phil-Tech International, Samsung's Mr. Han selected Martin Automatic to provide a non-stop rewinding solution, the model RMAP automatic transfer rewinder.
Unlike conventional turret winders, the rewind spindles of the RMAP traverse horizontally. This linear design minimizes roll travel as well as the tension upsets and web shifting associated with turret rotation. When the specified web length or diameter is reached, or upon a signal from the process or the operator, the printed web is transferred from the full roll to the empty core. The RMAP automatically unloads the full roll and lowers it to the floor or other roll handling equipment. The operator removes the shaft, prepares it with an empty core and returns it to the transfer position.
Martin installed the first RMAP rewinders in 2005, both on existing 32-inch Bobst-Champlain Lemanic presses. One of these presses required a new tension control outfeed, also supplied by Martin, as well as a new unwind. Martin replaced the existing OEM-supplied splicer with a new butt splicing unwind, the model MCB automatic splicer. The cantilevered spindles of the MCB butt splicer extend into the aisle to lift rolls off the floor and into running position. The MCB makes tight butt splices, with tape on both sides of the web, at full press speed.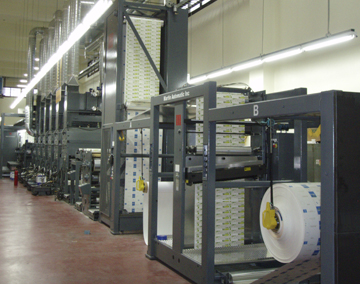 A Bobst-Champlain Lemanic press runs non-stop with continuous feed from a Martin Automatic MCB butt splicer. Automatic roll changing reduces waste and increases efficiency and quality at Samsung Gumbak Card Line.
The new splicer and rewinders enabled Samsung to run the presses roll-to-roll, without having to stop to make manual splices. Such stoppages incur wasted production time, labor and material waste. This material waste is generated from two primary sources: substrate that is lost due to slowing down, stopping, and restarting the press; and excess paper that is left on the core at the end of a roll, due to inefficiency of having to stop the roll without running out of paper. Automatic roll change minimizes these causes of waste, as Samsung has experienced on its presses.
In addition to reducing substrate waste and saving labor, Samsung also reported that the addition of the Martin equipment led to an improvement in print quality and a reduction in the rate of poor print.
The most recent installation of Martin non-stop roll changing equipment is a third new RMAP rewinder, put into service in 2011 on another Bobst press. Samsung relied on Martin's process knowledge and engineering capacity to integrate the new rewinder with a Vits sheeter. With the new equipment configuration, Samsung can now run this press roll-to-roll or roll-to-sheet, for maximum production flexibility.
David Ho, general manager for Martin Automatic Asia Pacific, says, "Partnering with Martin has enabled Samsung Gumbak Card Line to improve their process efficiency as well as the quality of their products. We are very pleased to contribute to Samsung's success."