Gallus/Martin Combination Competes Direct With Digital Technology in Czech
Posted: February 16, 2012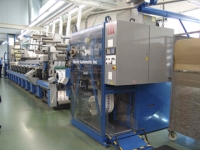 The Martin Automatic LRD rewinder fitted to the Gallus RCS 330 at Colognia Press has a slitting facility
"We have risen from 10th to 3rd in the Czech market and are aiming to be Number 1", said Jaroslav Vendl, CEO of Kolin based Colognia press. Marketed as 'Etiketa' to describe its main function as a label printer, this privately owned company was founded in 1996 and today engages 77 staff in a business that has seen sales grow from €5.8m in 2005 to a realisable target of €9.3m for 2011.
Currently, around 90% of production is for the domestic Czech market, but Vendl is quick to point out the price dvantages his company can offer and its strategic central location in the EU as valid reasons for future export growth. The ompany has a deliberately fragmented market coverage, with no sector accounting for more than 16% of the total output by value. Sectors served include automotive, food, pharmaceutical, cosmetic, wine, electro technical and chemical for labels and tubes, and sport, clothing, gardening, culture and traffic for tickets and tags.
Into this complex environment most recently has come a Gallus RCS 330 combination flexo/screen servo driven press, fitted with a Martin Automatic MBS unwind/splicer and LRD rewinder with slitting device, and an E+L 100% print quality nspection system. "We needed non-stop running to meet the stringent quality requirements of the pharma companies, where small point sizes and characters must be accurately reproduced. But, standards are rising across all sectors, and to meet the demands of our customers decided to invest in what we believe is the best technology available," commented Vendl.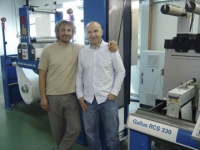 Pavel Kubac (left) and Jaroslav Vendl are working hard to make Colognia Press the Number 1 label converter in Czech Republic
Proud holders of a host of accreditations and certifications, including ISO 9001, EMS 14000, and OHSAS, the company rides itself on its 'green' credentials, holding the DPG (Deutsche Pfandsystem GmbH) mark for recycling. Reduced waste is high priority at the Kolin plant, and was a key reason for Colognia investing in Martin Automatic equipment. "We knew that to make the most of the new Gallus we needed to run it non-stop. Martin has the best reputation in the market for automated roll handling - in fact we know that much of the industry thinks of Martin as the generic term for a splicer," he added, " and we are currently looking at a return on our investment inside two years based on the 15% productivity improvement it is offering."
The Gallus and Martin equipment was installed at the end of 2010, and Vendl still believes his company is in a transitional period in terms of workflow. Run lengths continue to fall approximately 20% year on year, and this suits the Gallus/Martin combination perfectly. Vendl explained: "Price is a less critical factor on shorter run work, and also jobs on fast turnaround, so investing in expensive equipment to serve this market trend makes perfect sense. We now have the option of selecting the Gallus/Martin combination or the EFI Jetrion digital press for short runs because they are directly competitive."
With top brands like DHL, Skoda, Sony, and Philip Morris to keep satisfied, Colognia is keen to promote its strengths. "We pride ourselves on the 24/7 service we offer, and the fact that we are self sufficient for pre-press with our Esko based CtP system. We offer 100% inspection, because the pharma market insists on it, and it benefits everyone, and we have a contingency back up plan, should disaster strike, that any job can be outsourced to the same standard of quality, price and delivery," he said.
Pride of place in the company's modern and recently extended plant goes to the Gold Award received from the World Packaging Association at the recent Interpack 2011 expo. It was the first time a Czech company had won the 'The President's Award', and in the view of the judges, the product, a laminate tube with Braille script, 'demonstrated additional added value in terms of social aspect.' With more than 10% of the EU population suffering from blindness or partial sight, and the ever-changing legislation covering Braille on packaging, Colognia was delighted to have its work on tubes recognised and rewarded. The job was printed on the Gallus/Martin combination machine, using 300-micron material. As a point of reference, the same equipment also handles 30-micron foil with equal facility.
Stressing the company's drive for quality, Vendl commented that 'short term cheap becomes long term expensive'. "We are not pioneers here, but we believe in maximising on our core competence, and to that end train our staff and invest in local learning schemes to improve the general level of education, especially among the young and less privileged." The company's magazine 'Colognoviny' began life as a staff newsletter but became so popular that it grew into a periodical, and is now seen as an educational tool and source of interesting information among the local community and printing industry.
With another RCS 330 on order, Colognia is chasing that Number 1 position hard. The company views Gallus as the premier supplier of narrow web technology with a reputation for reliability, service and technical support, and training. "The servo drive of its RCS makes it a very flexible machine, which suits our client base." The new RCS 330 will be the company's fifth Gallus in less than 10 years, confirming Vendl's opinion. "We like to set ourselves challenges," concluded Vendl, " and this will certainly stretch our capability to keep the production schedule full."