Artistic Carton pioneers web offset production with its new JET press
Posted: September 25, 2017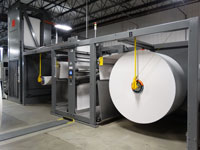 Artistic Carton chose a Martin Automatic MCB butt splicer for carton production on its new web offset JET press.
With more than 82 years of carton experience, and still under family ownership, Artistic Carton Company is rightly seen as a seasoned campaigner in the production of folding boxes. With an envied reputation for high quality in some of the most demanding sectors of package printing, the company is both traditional in its attitude to customer service, yet pioneering in its approach to job fulfillment, as the recent investment in a multi-million-dollar web offset press testifies.
Artistic is proud of its self-sufficiency, owning and operating its own recycled board mill in White Pigeon Michigan, which supplies much of the material used at its two carton printing sites in Elgin, IL, and at the main plant in Auburn, IN. The company claims to convert 10 truckloads per day into re-cycled board, which it estimates at around 70,000 tons of waste each year that would otherwise find its way to landfill. The use of a closed-loop water system at the mill that requires no external sourcing, and avoids any risk of environmental contamination, is typical of a company that has an eye for detail.
It was into this high-quality and fine-detail environment that Mark Petersen brought his many years of narrow web production experience in Printing Management. "I was accustomed to a continuous workflow with single pass production, so the traditional carton house was somewhat alien to me," he commented. Petersen and the Artistic team drew on all their combined expertise to plan and specify a new press for Artistic that would offer the maximum opportunity for high quality at high speed, with maximum flexibility of carton style and substrate.
The result is what Artistic calls its JET press, named affectionately after the company's founder John E Traeger. It's a production line that stretches some 280 feet (85 metres) from roll unwind to the delivery of batched carton blanks. And, the clue is in the term 'roll unwind' because this is a web offset press of unique specification. After evaluating what the market had to offer, Artistic chose Komori-Chambon as its press supplier and set about working closely with the manufacturer to specify a production line that offered the ultimate in production flexibility. The key to maximum efficiency with any web press is non-stop production, so the choice of unwind and rewind technology plays an important part in the overall investment package. And, just as Artistic preferred Komori-Chambon for the printing element, its choice for unwind and rewind was Martin Automatic, about whom Mark Petersen said: "Their machines go on forever!"
A walk down the line is impressive because it shows the detailed planning given to the project. It begins with the Martin MCB automated butt splicer, capable of handling 84" (2134mm) diameter rolls and matching the press' maximum speed of 1200 ft/min(365m/min). The festoon accumulator allows the press to continue running at full speed as the new full roll is spliced to the expired roll. The MCB is also able to unwind and splice pre-printed webs, maintaining register for a second pass through the line and further printing, decorating, and converting.
The web then passes through a Doyle web cleaner and Enercon corona treater, which allows maximum flexibility of substrate usage. The key element is then the six Komori-Chambon variable format offset print units. Capable of 1200ft/min (365m/min) with a 33.5 inch (850mm) web width on 10 - 30pt board (240 - 600gsm), and fitted with quick-change sleeve technology that allows different diameters and sizes for maximum customisation, the press is capable of printing with water based, UV, or, for the food and beverage industries, the preferred EB inks.
The PCT Engineered Systems four-in-one electron beam curing unit is of unique design and currently the only one in operation worldwide. It offers instant high-speed curing, with zero VOCs, and removes any risk of ink migration. After curing, the web passes into two flexo stations that can apply water-based or UV varnish on one or both sides of the web, and cold foil, cast & cure, laminating, and holographic effects before passing into a 100% colour scanner that detects and corrects any variations.
Then comes the stage where the line shows its flexibility, with the printed web continuing in one of two directions. It can be turned through a right-angle via a Martin supplied air turn-bar device, and fed into a Martin LRH automatic transfer rewinder, which rewinds into rolls of 72" (1818mm) diameter, before doffing and delivering each finished roll. Or, the web continues straight into a 100% inspection unit with auto reject facility, and then a rotary die cutting and creasing station, before being shingled and stacked on the air table for automatic palletising.
According to Mark Petersen: "We have specified the press for 9 colour printing capability, three of which can be on the reverse too, and tooled it for the widest variety of carton styles we can imagine. It allows us to offer combination printing for multiple versions of the same carton size, all produced in one-pass, with a variety of coatings that include matt, gloss, textured, soft-touch, pearlescent, and scented, with UV and water-based products." This variety is targeted at the high-quality markets that include premium dry and frozen foods, beverages, gift boxes, health and beauty products, automotive, hardware, household and pet food - just about as wide a range as one could imagine!
With run lengths continuing to decline by between 5% and 10% per annum in recent times, and showing no signs of changing direction, the JET press is an ideal solution for Artistic because of its high degree of automation. "It's just as vital to specify the best ancillary equipment as it is the main printing line. It was a lesson I learned from my narrow web days that the best quality comes from continuous running, and the best technology for that is manufactured by Martin Automatic," commented Petersen, who added that the simplicity of their design is a major contributor to the Martins' consistent reliability. "I can only see more automation and robotisation going forward as we all have to respond to the change in shopping habits and the way that brand owners now order their packaging," he added, commenting that he see digital presses having limited impact on the carton market in the immediate future.
Artistic Carton currently employs 75 people and operates 24/5 in its 13,000sq/m (140,000 sq/ft) plant in Auburn, and undertakes what it calls an 'Inside-the-box' mentality, which allows it to adapt to the individual needs of different industry sectors. Working on the three key principles of packaging: protection in transit; sustainability of product; and enhanced product image, the company proudly adheres to its ISO certification, and operates an open EDI system with its customers that monitors and maintains inventory levels as well as providing live information of job estimating, production and delivery status.
It is, in fact, the very essence of a modern carton plant, and one that Martin Automatic is delighted to be associated with, according to Vice President Sales & Marketing, Gavin Rittmeyer: "Artistic Carton is a great example of what automation adds to printed package production. It offers the quality that only continuous running can bring, and the reduced levels of wasted material and labor at both ends of the press. In today's cost-conscious and environmentally-aware society, Artistic is a model for the future, and we at Martin are delighted to play our part."