Automation Maximizes Performance in Label Production
Posted: March 23, 2017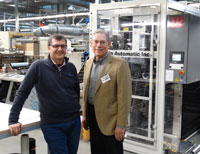 Angelo Manfredini (left), seen here with Martin Automatic's Ed Pittman, says Pilot's technology is all geared towards maximizing performance
One of Italy's leading label converters is committed to offset printing and has automated its production with unwind and rewind technology from Martin Automatic. Nick Coombes reports from Pilot Italia in Cornate d'Adda.
When Pilot Italia was created in 1968 as a branch of the French parent company, few could have predicted how successful it would become in the years that followed. And fewer still could have foreseen that this success would be achieved against the trend of flexo printing, by using primarily narrow web offset presses.
Purchasing Manager at the Italian plant, Angelo Manfredini, explained the company's investment strategy: "Back in the 1990s the quality obtainable from narrow web flexo was no match for the rotary letterpress technique that was losing favour. HD-flexo and all the improvements it brought lay many years ahead, so the decision was made to use offset. It's a standardized process with inexpensive pre-press and an established reputation for high quality - it also fitted perfectly with our top-end customer base."
As the business grew, a larger site was acquired early in the new Millennium before the company settled into its modern 20,000sqm facility in 2012 at Cornate d'Adda, just east of Milan and overlooked by the Alps. Today, the plant houses 11 multi-colour offset lines along with flexo and screen capability in combination as well as hot and cold foil and embossing. The company also retains rotary letterpress technology for specific jobs.
From early in the company's life, Pilot Italia looked to improve production efficiency on its rotary web presses by incorporating roll handling on some of its older models. In 2007, as it was installing new presses it opted to investigate what improvements in automated performance could be achieved and concluded that the best choice was Martin Automatic, the acknowledged leader in the field.
The result is that eight years on, Pilot Italia has invested around $800,000 with the American manufacturer and has three Martin MBSF (F for Film) unwind/splicers and four LRD rewinders fitted to several of its Nilpeter MO and Drent VSOP presses. "We estimate that the Martin equipment shows a time and material saving of at least 10% on our longer run work, and more on time with the shorter runs. The equipment also improves the efficiency of our inspection/rewind department as we can eliminate the metres of waste that are often removed from the rolls at the inspection machine, which slows down the process - and, we can more easily isolate bad labels," he added.
Quality is a byword at Pilot Italia, and it was the main criterion for choosing Martin Automatic as a long term supplying partner, according to Manfredini. "We looked at all the competition and it was clear that the best balance of price, performance and reliability was offered by Martin. We prefer continuity to constantly switching suppliers, and in Martin saw a synergy with which we felt reassured and comfortable. To date it's been a rewarding partnership for both, and while the equipment has proved extremely reliable, we enjoy the level of ongoing support they give us."
Pilot Italia's work is all aimed at the high quality markets of cosmetics, personal, health and home care, food and beverage, and pharmaceuticals, with the company offering a range of products from its 11 narrow web presses including self-adhesive labels, blister films, pharma labels, tracking and security labels, and promotional tags. With a web width range that spans 120mm to 520mm the company is well placed to handle most types of work, of which currently 40% is produced on paper-based substrates and the remainder on filmic materials. The company uses stochastic screening for enhanced high quality, and operates a double-day shift pattern to produce over 1.5 billion labels each year.
Now rated amongst the elite of Italy's self adhesive label printers, Pilot Italia has long been a supporter of FINAT, with company owner and Chief Operating Officer Andrea Vimercati a Past President of the organisation. Despite the advances made in the flexo process, the company still believes that offset provides it with an edge in today's competitive label market. "Our technology and expertise is all geared towards maximising performance - and it has been a very successful formula here," concluded Angelo Manfredini.