Automate Production to Improve Productivity
Posted: January 16, 2017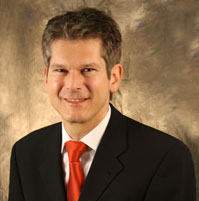 Bernd Schopferer is the European Sales Manager for Martin Automatic
In an exclusive interview for Flexo Plus, Nick Coombes speaks with Bernd Schopferer, European Sales Manager at Martin Automatic, about the value of automation on roll fed presses.
NC: What kind of Martin Automatic devices for printing press automation are most in demand?
BS: Martin designs and manufactures high performance automatic unwind splicers, automatic transfer rewinders and tension control equipment. Printers today should have the same goals - manufacturing products of the highest quality with the least waste, and in the most efficient way possible. That is true everywhere around the world, and is quickly becoming the case in the Eastern European region too.
The most successful printers recognise that buying quality equipment, even at a premium price, whether it is a new press or new automation, sets them up for greater long-term success. As one customer in this region explained: "Short term cheap becomes long term expensive." Smart printers are also looking beyond their present markets toward new or related markets, and Martin Automatic equipment helps them to achieve their goals.
NC: How does automatic roll changing help a printer, and what kind of printer does your equipment benefit the most?
BS: Stopping any roll-fed process, including printing, to change rolls creates several kinds of cost to the converter in the form of waste. Some of the most costly are: One, when the press is stopped, it is not making sellable product. It is costing the company money rather than contributing to revenue. Two, a certain amount of substrate is wasted at every stop. Depending on the press and the process, this amount could be relatively small or quite substantial - in the narrow web label industry, it is not unusual to waste 3 press lengths' of material or more at every manual roll change. If the material being printed is very expensive, the amount of waste quickly multiplies into a large amount of wasted money. Three, the process of slowing/stopping/restarting a press for a roll change affects the quality of printing and drying or curing. Case studies indicate that running at a continuous speed, rather than frequently changing speed for roll changes, contributes to higher quality products. And four, energy costs are higher when stopping for roll changes. One case study demonstrated that continuous running reduced electricity consumption by 23% when compared with the same job performed with manual roll change.
As to which printers should consider automatic roll change, it is important for every user to evaluate his or her production. While the payback (ROI) tends to be faster for longer run jobs, printers today recognise that medium run lengths and even short run jobs of just a few of rolls will benefit from automation. In fact, many users of Martin equipment in the narrow web label industry define themselves as short to medium run producers.
NC: Can you give examples of the type of equipment in which your customers are investing?
BS: Martin's range of equipment and expertise spans a wide variety of products and industries: from printing and converting to coating and laminating; from stable materials like paper and laminates, to extensible films and nonwovens; from narrow and slow to very wide, like four metres, and very fast, like 915 m/min. Because stopping and starting to change rolls creates waste, any product made from a roll of material can benefit from non-stop unwinding and rewinding.
In Eastern Europe, in the narrow web label industry, Martin's MBS is the most popular butt splicing unwind. From the first ultra-simple, totally pneumatic MB model in 1985, Martin developed the MBS to the full featured, plc-controlled splicer that is today an industry standard. Nearly 1000 MB and MBS splicers have been installed worldwide in the narrow web label field, with hundreds more in narrow and mid-web carton, paperboard, and flexible packaging. At the opposite end of the press, the LRD transfer rewinder automatically changes printed rolls for non-stop roll-to-roll operation. A recent example of this type of installation can be seen on a Gallus press at Colognia Etiketa in the Czech Republic. The splicer and rewinder provided a return on investment inside of two years for this label supplier, based on waste reduction and a 15% productivity improvement.
Martin provides automatic roll change for paperboard converters, including makers of paper plates and cups, to folding carton, and liquid packaging containers. At Elopak in Fastiv, Ukraine, Martin has fitted two flexo presses with MCB automatic splicing unwinds. In addition to handling the heavy rolls previously manipulated by operators, the splicers improved Elopak's output by 12 - 15%. The splicers also enable Elopak to reduce significantly the wasted board left on cores.
At Flexoznak in Moscow, we have MBX and CRS equipment fitted to one of the company's two Comco ProGlide flexo presses. According to the owner there is a significant difference in the output of the two machines, with the Martin equipped press being better.
NC: Are there many Martin Automatic installations in the former USSR countries?
BS: Yes. In the past 10 years, we have installed many of our machines in this region. We have customers in Russia, Poland, Slovakia, Czech Republic, Ukraine and Belarus. In addition to the examples above, applications have ranged from very narrow splicers and rewinds for food casing production, to roll changers for toothpaste tube production, to machines for folding cartons, labels, and filmic shrink sleeves and flexible packaging. Processes include inline and CI flexo, inline combination printing, letterpress and offset. While some of these countries are currently facing economic challenges, we anticipate that printers and converters will push their regional advantages and grow their businesses, and Martin is committed to supporting them. We provide sales and service from our facility in Germany, in addition to support from our headquarters in the USA.
NC: What new developments do you see in further automation for the package and label printing sectors?
BS: John Martin, our founder, used to say: "It is difficult to schedule an invention." Instead, our goal is to listen to our customers and respond with the right combination of technology to meet their specific production demands - providing exactly what they need - while giving them the flexibility to meet their anticipated future requirements. Where we see the future heading, and some areas where we are constantly innovating, would include:
Higher speeds - our various equipment platforms make it easy to meet the increasingly faster production speeds that have come about with advances in press technology. Lighter webs - materials are becoming lighter and thinner. Many new narrow and mid-web presses, for example, have at least some capability to run film materials for products such as in-mould labels, shrink-sleeves, wraparounds, and stand-up pouches. For that reason, we have made many of our base models capable of unwinding and splicing supported and unsupported films, as well as both clear and opaque substrates.
Waste reduction - several years ago, in response to demand from the laminated tube market, where base material costs are very high, Martin developed the WRS (Waste Reduction System) for the MBS splicer. The WRS offers additional control over the web, stopping the expiring roll with as little as 300mm of material loss. We have applied similar technology to splicers for nonwovens, paperboard and liquid packaging. One of our customers observed: "the need to be 'green' has not been so prevalent in Russia as elsewhere in Europe." That is changing, and the future belongs to those printers who are best placed to lead the drive for reducing waste and pollution.
Web widths and roll diameters - press widths have expanded in recent years, both in absolute width and in the number of standard offerings. With regard to roll diameters, some customers desire to run larger rolls, while others need smaller rolls in order to accommodate their space and handling requirements. Again, our platform approach enables us to meet all these requirements while maintaining the simple, reliable functions that the market has come to expect from Martin.
Roll handling automation - as line speeds have increased, and with customer desire to reduce operator intervention, we have developed additional roll handling automation for our splicers and rewinders. For example, on a wide web paperboard press running at 610m/min, where roll changes can occur every six minutes or less, we integrate a package that will automatically: * Unwind completely off the core at full speed to maximise material usage * Open the unwind gate * Remove the empty core from the unwind and convey it downline for use at the rewinder * Convey a new roll via a conveyor system that Martin integrates with the splicer, including options like a turntable and stripping station to assist operators with preparing a new roll * Load a new roll into the unwind and close the unwind gate * Align the new roll with the running roll Some models offer automatic splice preparation, including options for auto-taping or automatic hotmelt adhesive application. We expect to see a trend toward increasingly more automated functions like these.
Special configurations - Adding non-stop roll change is a very practical means of optimising an existing press asset. Unfortunately, many presses have been installed in production areas with limited space, which require creativity for the subsequent retrofitting of a splicer or rewinder. When space is limited, for example, a splicer festoon can be customised taller or shorter; or mounted on top of the unwind - or even supplied with air turns to enable the unwind to be installed in various right-angle configurations.
Controls - our guiding principle still remains 'KIS - Keep It Simple'. One way we enforce that principle is by not out-sourcing our controls to a third party. Manufacturing all our controls in-house, whether electrical engineering, programming, or panel-building, gives us maximum flexibility to develop new machines, enhance existing models, and support our customers.
NC: So, in general, what advice would you give to printers who are struggling to compete in today's highly volatile market place?
BS: Look at the printing press technology you already have and ask for advice on whether its performance could be improved with automation. This is a simpler and cheaper way of improving productivity and may allow you to defer investing in an expensive new press. When you do order your new high-speed press, make sure you include automated unwind, splice, and rewind technology to maximise its effectiveness.
Either way, you will be amazed at the difference automation can make!