Customisation from Martin Automatic boosts label press productivity
Posted: April 07, 2016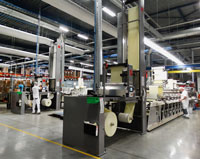 The two Martin Automatic MBSF unwind splicers at Desmedt were adapted to have a smaller footprint and offer better ergonomics for the press operator.
According to Henri Köhler, General Manager at Belgian label converter Desmedt: "The Martin Automatic MBSF splicers have given us 25 - 30% more output on our different narrow web flexo lines, and I am prepared to state that we should not consider installing another press without Martin automation."
The twin Martin machines at the family owned converter, based in Bornem, between Antwerp and Brussels, include several customised options. In a typical Martin butt splicer configuration, the festoon (or accumulator), that supplies web to the process during the splice cycle, is mounted at the end of the unwind section. Seeking to minimise the use of production floorspace, Desmedt asked Martin's designers to come up with a solution that offered a smaller footprint. The ingenious result was to stack the festoon on top of the unwind, with the rollers at waist-level. "Not only did Martin shorten our line length, but it is easy for the operator to access the web, and the equipment is at a convenient height for cleaning. Keeping the operator happy is an important element in our Lean Manufacturing programme, of which the two Martin units are key elements," he added.
The two MBSF ('F' for film) splicers are also fitted with Martin's latest development, a reverse-side-tape laser assist device, which accurately aligns the tape with the web edge and eliminates any hand/eye coordination errors. According to Desmedt, it is particularly effective if the edges of the matrix are reduced to save waste, and to date has worked well with no missed splices in commercial production since the training period at installation. "The Martins are proof that the basic laws of physics work well, without the need for complex technology. Our operators tell us they would not want to be without them, and as proof of the equipment's intrinsic reliability, the splicers are two machines that are never discussed in production meetings," he declared.
Desmedt is proud of its Lean Manufacturing programme, which in addition to the Martin Automatic equipment includes a waste removal system and turret rewinders, all designed to allow non-stop production. In addition, the company has encouraged its workforce to become involved in the programme, and created an atmosphere in which everyone is invited to suggest ways and means of improving efficiency, however minor. Köhler explained: "If we can each find a way of saving a few minutes or a few Euros, then the cumulative effect can transform our productivity. It's finding the perfect balance between human and machine capability that enriches a business, so we all must play our part."
Commenting on the specialist nature of the Martin Automatic installation at Desmedt, European Sales Manager, Bernd Schopferer said: "The request from Desmedt to provide a bespoke installation played to our strength - Martin is a design and engineering oriented company that has developed individual converting solutions for a wide range of different industries around the world. Adapting the MBS technology was straightforward because of the inherent simplicity of its design - and is something that could not have been achieved had the technology been complex."
Originally established in Brussels in 1889, Desmedt Labels was one of the first in continental Europe to achieve HD-Flexo status, and is proud of its reputation for quality labels and printed packaging that includes: promotional labels, coupons, dry peel labels, tags, duo and trio labels, and on the security side, tamper evident and RFID labels. The company has both flexo and digital print capability, is accredited with EN ISO 9001-2008, and is fully FSC compliant.
Concluding, Henri Köhler stated: "Although our experience of working with Martin Automatic has been relatively short, it has proved invaluable to our operation here. They listen closely to what is asked of them, are happy to make even the smallest of changes, and have thus become one of our preferred suppliers."