CEMSA AND OMET CHOOSE MARTIN AUTOMATIC ON NEW CUP PRESS
Posted: April 24, 2013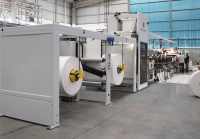 A Martin Automatic MBX butt splicer boosts paper cup production efficiency on new Omet press.
Central de Empaques SA (CEMSA), part of Grupo Industrial EEC founded in Guatemala City in 1981, has installed an OMET VaryFlex 2 line at CEMSPACK, its new paper cup production facility near Mexico City. The 670mm wide OMET press, which has five UV-flexo printing units, a single rotary die-cutting station, and a delivery conveyor, has been specified with a Martin Automatic MBX butt splicer to allow continuous running.
According to Carlos Alfredo Rivera, who provides technical assistance for both the Guatemala and Mexico plants: "The OMET was chosen after a series of production tests in which it produced the best combination of quality and speed for the type of work we produce at CEMSPACK." The decision to fit Martin Automatic ancillary equipment was made following good experience with similar technology from the American manufacturer on an earlier OMET press.
Rivera continued: "The OMET/Martin combination fulfils our requirements for reduced waste levels and minimized maintenance costs. Running cartons at high speed requires a well-built machine because the working environment is very tough. We customarily operate the line at 200 metres/minute, without any loss of quality, and our carton waste has fallen by 5 per cent since installation."
The VaryFlex V2 is one of OMET's best-selling machine lines. The VaryFlex is of modular design to permit maximum flexibility in specification, which makes it ideal for retrospective upgrading as market demand changes. Specification includes a corona treater, contactless web cleaner, a decurler, a de-nesting delivery, and a waste extraction system.
Capable of handling carton board from 12- to 600-microns, its servo driven flexo print stations will accommodate UV, water-based, or solvents inks. Colour preparation can be carried out offline or online with the ink cassettes, and the VaryFlex is fitted with pre-register and running register. Print repeat is from 12 to 33 inches, and OMET says the press is a more commercially viable alternative for sheet fed offset carton production on small to medium length runs, typically in the food, tobacco and cosmetics markets.
The Martin Automatic MBX butt splicer was supplied as an OEM fitment. As specified, it has a maximum splicing speed of 213 metres/minute, so is comfortable with CEMSPACK's working speed of 200 metres/minute (although top speed of the MBX is 243 metres/minute). The maximum web width of this particular MBX model is 670mm (minimum 335mm), and it can handle 1828mm diameter rolls that weigh up to 1135kg. The system uses an inertia-compensated festoon, a patented splice unit that gives a diagonal butt splice, and a two-position cantilevered unwind that uses Martin's own lift and load system. Controls, which are integrated, include those for automatic roll unwinding, splicing, and importantly, web tension control.
Speaking for Martin Automatic, Ed Pittman said: "We are delighted to have supplied another splicer to CEMSA, and know that it is already making a contribution to waste reduction and improved productivity. There are quite a number of Martin/OMET combinations running carton board and they are all valued as a cost effective alternative to traditional sheet fed offset with offline converting. The installation at the company's new plant in Mexico City is another good showcase for inline flexo carton production."
CEMSA began life as a carton converter before adding an assembly facility for metallic crown caps in 1985, and then moved into flexible packaging in 1991. The most recent addition of the CEMSPACK plant in Mexico City in 2012 brings its total number of employees to 290, of which 25 are working at CEMSPACK.