Martin Automatic Supports Technical Training with Splicer and Rewinder
Posted: May 20, 2012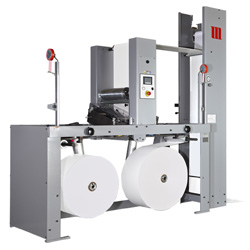 (ROCKFORD, IL - USA) - Underlining its continued support for technical training in the printing and converting industries, Martin Automatic is providing a new butt splicing unwind and automatic transfer rewind to French association 5i Conseil.
Martin demonstrated the model MBSC butt splicer at the recent DRUPA show in Dusseldorf before installing it at the training center. The splicer will be paired with a model STR turret rewinder to provide continuous roll-to-roll productivity on a new Gallus ECS340 press.
5i Conseil is a professional skills center serving the graphic arts and packaging industry. Its 1300 m2 facility is located in Sainte Menehould, about 200 km east of Paris, in the heart of the Champagne-Ardenne valley. The center encourages training in both theory and practice to develop expertise in printing processes, packaging materials and production management. Students and clients train on equipment including a Gallus EM280 and ECS340 "rock" press.
According to Stephane Giraudon of Ferag, Martin Automatic agent in France, the MBSC butt splicer and STR turret rewinder are the perfect complement to presses like the ECS340. "This combination of splicer and rewinder was designed specifically for such presses-matching the web width, production speed, material requirements and even the space constraints of many narrow web converters."
Giraudon adds, "To survive in today's global economy, production efficiency and waste reduction are absolutely essential. What better, then, than to train operators and managers on state-of-the-art equipment that gives them a competitive advantage?"