Martin Automatic Announces New European Sales Manager
Posted: January 02, 2012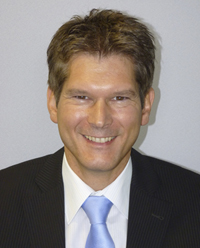 Bernd Schopferer, European Sales Manager, Martin Automatic Europe GmbH
(Rockford, IL) - Martin Automatic Inc is pleased to announce the addition of Bernd Schopferer to the staff of Martin Automatic Europe GmbH. Schopferer has more than 16 years experience in printing and converting industries. He joins the company as European Sales Manager as of January, 2012.
In announcing the appointment, Gavin Rittmeyer, Vice President of Sales and Marketing, said, "Bernd comes to Martin with an energetic and balanced approach-combining keen engineering skills as well as discernment of customer needs-that is a natural fit both to Martin's corporate spirit and to our entrepreneurial approach toward finding exact fits between equipment supply and our customers' requirements."
Before joining Martin Automatic, Schopferer was with Muller Martini Druckmaschinen GmbH in Maulburg, Germany, where he held management positions in engineering, product development, technical sales and marketing.
Rittmeyer added, "Our customers will find in Bernd an experienced confidant to help sharpen their focus in selecting equipment that will gain the most production and the greatest return on investment with the hard-earned money that they put in our trust."