Comco and Martin Automatic Give Flexoznak Unique Capability in Russia
Posted: September 16, 2011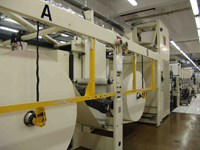 The Martin Automatic MBX unwind/splicer feeds the web non-stop at Flexoznak
From a staff of only four people in 2000, Flexoznak, the Moscow based printing and converting company, has expanded to become one of Russia's leading suppliers of flexo printed cards for the country's fast-growing telecommunications industry. In ten years, staff numbers have increased beyond 200, and the company, which is the only one in Russia to utilise the narrow and mid-web inline flexo process, now converts more than 350 tonnes of carton board and 150 tonnes of paper per month. It is jointly owned by Viktor Ten and Valery Ponomarev.
Production, which began with card and paper items for the tobacco industry, produced on a Nilpeter flexo press soon ramped up to the point where investment in new technology became essential. Today, the plant list includes two Comco ProGlide MSP lines, Martin Automatic roll handling equipment, an A2 format KBA Rapida sheet fed offset press, a Plekstra line for printing on plastic, and numerous slitting and rewinding machines, including those from market leading Rotoflex.
To steer its investment programme, Flexoznak employed the services of a specialist, whose experience with label, screen and security print production was invaluable. Keen to move into print for packaging, Flexoznak identified Comco as the manufacturer with the most experience of inline production for its chosen market. The basic requirement was for a press capable of printing paper and board substrates with minimal adjustment, and one that had a proven record of sustained reliability. To maximise on the Comco's performance, automated handling was recommended, and the best solution provider was identified as Martin Automatic.
(Left to right) Mikhail Botchenkov, Vadim Mamaev, Walter Eitner (Mark Andy) and Maria Taran
The final specification of the installation was a 22" (600 mm) Comco ProGlide MSP, fitted with nine print units and six converting stations. The press was specified for water base and solvent inks, with UV-flexo capacity on five of the print heads. The Martin Automatic equipment specified was an MBX automated unwind and splice unit, and a CRS rewind station at delivery. Commenting on his company's choice of technology, Vadim Mamaev, the Deputy Director of Manufacture at Flexoznak said: "We took expert advice and are very pleased with the results. The Comco gives us all the flexibility we need to produce a variety of products in what is a growing and changing market. The Martin equipment is the perfect complement to the Comco. It is completely reliable, and I believe this is because of its simple design and strong build quality."
Flexoznak is aware that the 'need to be green' is not so prevalent in Russia as elsewhere in Europe, and has decided to adopt a pioneering spirit for environmental protection to set new standards. "Our production facilities are unique in this country so we are best placed to lead the drive for reducing waste and pollution," he added, alluding to the phasing out of solvent inks and the advantages offered by the Martin Automatic equipment in terms of reduced substrate waste on the reel cores.
Less than two years of installation, with demand outstripping capacity, the decision was made to initiate a second investment programme, and a similar Comco press was ordered from the manufacturer. For reasons of limited space, and to keep the total investment cost low, Flexoznak specified KTI handling equipment. In those days, it was operating from a cramped production area in Leningradski Prospekt, close the Kremlin and Red Square in Moscow.
But, in 2007, Flexoznak relocated to its present 10,000 sqm facility on the outskirts of the city – a site that currently handles 200 million linear metres of paper and board each year and produces 216 million scratch cards. Significantly, according to Mamaev, it has given Flexoznak the opportunity to directly compare the two Comco production lines. "The first line definitely has the edge in performance," he said, "because the Martin equipment is the best match for the press. To my mind, Martin offers the best technical solutions, and has the widest capability range for any application. In ten years, we have had only one issue with our Martin equipment, and it was resolved by e-mail," he added.
The second Comco, which has servo drive and works roll-to-roll, is also a 22" ProGlide MSP, has eight flexo print units and four converting stations, and is fitted with moveable UV curing capacity. Seen as essential back-up capacity for the leading international brands that now form part of Flexoznak's customer portfolio, the second Comco press also offered new market opportunities, according to Mikhail Botchenkov, Deputy Director of Sales. "We are an accredited supplier to leading food and tobacco companies and have structured our plant to the EN/ISO 9001-2000 standard. But, we also saw the potential growth in telecoms and went after the business." By late 2006, the company was producing more than 500 million pre-paid cards each month, which was the only means to top up mobile phone credit at that time.
Flexoznak investigated the market for producing scratch off cards that go into plastic envelopes, but the market began to shrink as special carton boards were developed that had three layers, one of which was carbon, and these were code printed by ink jet.
The company acknowledges the steep learning curve it faced at the beginning. "We aimed to match gravure quality, which with large areas of solid colour and vignettes, tested our flexo skills to the limit. But we have persevered, and our quality standards testify to our success in these areas," commented Mamaev. New markets include inserts for cigarette packs with special die-cutting and folding inline on the Comco, as well as lottery promotions using inserts overlaid on the pack with special die cut techniques.
With run lengths decreasing, even in a market the size of Russia, Flexoznak is aware of the need to be flexible. Besides paper inserts for the top international cigarette brands, and soft-pack cartons for Russia's own cigarette manufacturers, the company is heavily into the production of pre-paid gift cards, confectionary packaging, and smart cards for public transport. It is also monitoring the growing demand for paper cups and plates (to replace plastic) for outdoor catering and fast food outlets.
The pressure is building for a third press, though at this stage, Vadim Mamaev would not be drawn on what it might be. "All I can say it that the press will need to complement our existing capability, and that we are likely return to Martin handling equipment," he concluded.