ITW Labels Boosts Production With Martin Butt Splicers
Posted: June 13, 2007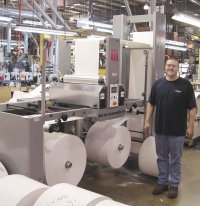 ITW Labels MBS Installation.
(ROCKFORD, IL) – ITW Labels has turned to Martin Automatic Inc to increase the productivity on its existing label presses. The label converter recently installed its third Martin MBS butt splicer in less than 10 months at its St. Charles, MO, facility. A fourth butt splicer will go into service in early summer.
ITW Labels (formerly Diagraph Label Group) is a leading converter of custom and blank labels. Kevin Gold is General Manager of the multi-plant group. "We already had several turret rewinders, so we knew the advantages of automatic roll changing at the end of the press. And we selected a matrix removal system to eliminate press stoppages at the matrix wind-up. The butt splicer was the remaining piece to give us a completely non-stop printing and diecutting process."
After evaluating several makers of butt splicers, Gold and his process improvement team selected Martin Automatic. The first two MBS butt splicers, designed to run supported pressure sensitive stocks, went into operation on narrow web flexo presses. Even using conservative numbers, Gold had estimated a short payback period. "After two months of running with the splicers, we saw double-digit improvement in throughput on both lines, and the actual payback is proving to be substantially shorter."
The third and most recent MBS butt splicer was installed on a diecutting press, and the fourth will go on another flexo line. Gold expects to retrofit the remainder of his presses with butt splicers later this year.
The Martin MBS system includes an inertia compensated festoon, a patented splice unit to make non-overlapping butt splices, and two cantilevered unwind positions with Martin's lift-and-load roll loading system. All controls for these components are mounted within the equipment, allowing automatic unwinding, splicing, and tension control.